Entourage And Curb Your Enthusiasm End Syndication, Move To Cable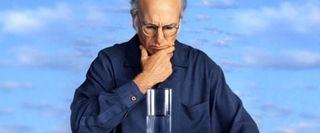 With Entourage winding down its run and Curb Your Enthusiasm's continued popularity, it was no surprise when HBO looked to syndication to keep the two franchises current in people's minds. In May of 2009, HBO licensed the two programs for fall of 2010 re-releases to Tribune Broadcasting, a group that owns 17 stations in various markets, and is more commonly known as WGN in Chicagoland, KTLA in Los Angeles, and WPIX in the New York area. This was presumably a big deal for Tribune Broadcasting, a group that declared bankruptcy in 2008 and has been steadily working its way out of the graveyard since then. The promise of solid late-night momentum could have gone a long way to help the group of stations.
Apparently, the promise was more than the delivery, because HBO has now pulled the two programs from all Tribune Broadcasting stations after ratings were well below what was expected. This sucks for those of us who were steadily re-watching the series. It especially sucks for those not privy to pay-cable, who might have been getting the series for the first time. Luckily, the two syndicated programs won't revert back to On Demand-only status. According to Deadline, Entourage will reappear on Spike and Curb Your Enthusiasm will begin playing on the TV Guide Channel soon. This is better news for those with a nicer basic cable package (e.g. Comcast) than those with a less-encompassing service (e.g. Time Warner Cable).
Your Daily Blend of Entertainment News
Thank you for signing up to CinemaBlend. You will receive a verification email shortly.
There was a problem. Please refresh the page and try again.