Episodes Premiere Review: Matt LeBlanc Deserves Better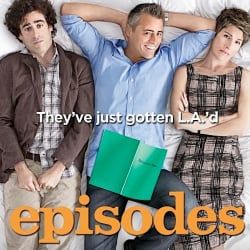 It surprised me too, but I actually missed Matt LeBlanc. The actor adored and eventually dismissed as nothing more than Joey from Friends has been laying low since that show went off the air in 2004, unable or unwilling to separate himself from his iconic character and with enough cash that he didn't have to try. The new Showtime series Episodes could have been a lazy comeback vehicle for him, a chance to riff on his reputation and earn some accolades without breaking a sweat, but LeBlanc is actually the most surprising, endearing thing about the show, which is generally stiff and slow without his presence.
The chief problem is that LeBlanc isn't the only person poking fun at himself-- Episodes is another one of those Hollywood satires that's also firmly entrenched within the system, making fun of the industry's excesses with softball jabs that simply can't work after six seasons of Entourage. Yes our main characters, married British TV writers named Sean (Stephen Mangan) and Beverly (Tamsin Greig) Lincoln, are fish out of water, brought to Hollywood by a network that wants to adapt their hit show Lyman's Boys and completely unprepared for the industry. But their shock at all the indignities they face in Hollywood seem hilariously naive, especially since so many of the jokes rely on us being shocked alongside them; the moment a smooth-talking network executive (John Pankow) effusively praises their show, you know he's probably never seen it. When his assistant Carol (Kathleen Rose Perkins, giving a performance that matures beyond what the material gives her) makes promises through a plastered smile, you know they'll be broken well before Sean and Beverly get wise.
The arc of Episodes is watching as Lyman's Boys-- an erudite and classy BAFTA winner-- morph into an emblematically crass American sitcom, retitled Pucks!, focused around a hockey coach, and starring that emblematically crass American, Joey Tribbiani. LeBlanc figures only briefly into the pilot episode but quickly takes over, playing a pompous version of himself who's coming back to TV solely for the money. As he clashes with Sean and Beverly, though eventually winning over Sean into a charming bromance, LeBlanc exposes the fault lines in the couple's relationship, which is already plenty strained by the Hollywood madness going on around them. He's also got plenty going on in his own life-- one entire episode centers around his relationship with his young children, not to mention evading the paparazzi after a bender by the courthouse bar.
An entire series about this version of Matt LeBlanc is something I would watch, freed from the show-within-a-show mechanics and all the "look how crazy!" jokes about life in Los Angeles that frequently paralyze Episodes. With streaks of gray in his hair and a litany of F-bombs LeBlanc seems looser than ever, while the show around him, linked closer to the sitcom style of Friends (its longtime writer David Crane is a co-creator here) than the more modern comedies Showtime specializes in. Even the fate of Lyman's Boys to become Pucks! feels like a relic from an earlier time, before The Office proved that British TV adaptations can be smart and American TV comedy, even on the networks, started reaching spectacular new heights. Maybe Sean and Beverly are so shocked by this version of Hollywood because it's one that couldn't possibly have created 30 Rock, Modern Family, The United States of Tara or The Big C; if that's the case, I can't really blame them.
With some sharpening and more focus on what works, and hopefully giving Greig more to do than furrow her brow and storm out of conversations, Episodes could make for unchallenging, mildly funny entertainment, and at least a welcome reason to respect LeBlanc's skills again. But we've learned to expect so much more from TV comedy since Friends went off the air, a fact Episodes seems to recognize with all its dirty language and cynical humor, but not quite understand. I never would have expected to say this, but Matt LeBlanc deserves better.
Staff Writer at CinemaBlend
Your Daily Blend of Entertainment News
Thank you for signing up to CinemaBlend. You will receive a verification email shortly.
There was a problem. Please refresh the page and try again.