Exclusive Video: Danny McBride Previews The New Season Of Eastbound & Down, Explains The K-Swiss Commercials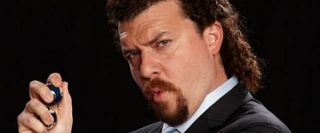 Danny McBride plays one of the idiotic co-conspirators in a bank robbery in this weekend's 30 Minutes or Less, masterminding a plan that results in Jesse Eisenberg's pizza delivery guy getting strapped to a bomb and forced to hold up a local bank. But while he was filming that movie in Grand Rapids, Michigan, he was also flying back to North Carolina for an even more ambitious scheme: the second season of Eastbound and Down, the HBO series in which he plays the foul-mouthed former baseball star Kenny Powers. McBride writes and produces every episode of the show along with his co-creators Ben Best and Jody Hill, and says HBO gives them complete control over the series, control that has only allowed them to do weirder and weirder stuff as the show has become a success.
A few weeks ago when he was doing interviews for 30 Minutes or Less, McBride was in the middle of shooting the third and final season of Eastbound and Down. After chatting a bit about the movie I couldn't resist asking him about a recent location shoot he'd done in Myrtle Beach; it turned into a long conversation about the current state of the show, the pleasure he takes in writing it and exactly what Kenny Powers was up to in Myrtle Beach anyway. I also asked him about the K-Swiss advertising campaign, in which he appears in character as Kenny Powers, who is portrayed as the new CEO of K-Swiss. The commercials are hilarious and perfectly fitting in tone with the show, but as it turns out, he, Best and Hill have nothing to do with writing them.
Below you can check out three videos-- the portion of my interview in which we talk about the show, an example of a Kenny Powers K-Swiss ad, and then my conversation with McBride about those ads. If you're interested in McBride's unusual career or a fan of Eastbound and Down, you've got to check these out-- not to mention seeing McBride in 30 Minutes or Less this weekend.
Your Daily Blend of Entertainment News
Staff Writer at CinemaBlend
Your Daily Blend of Entertainment News
Thank you for signing up to CinemaBlend. You will receive a verification email shortly.
There was a problem. Please refresh the page and try again.