It's Always Sunny In Philadelphia: 14 Actors Who We'd Love To See Guest Star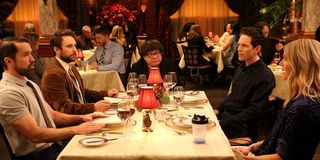 In its 14 seasons, It's Always Sunny in Philadelphia has had a wide range of guest stars like Mindy Kaling, Josh Groban, Sinbad and Matchbox 20's Rob Thomas. In the early days, the FX comedy's guest stars were mainly lesser-known comedians and actors, basically people who were friends of It's Always Sunny's co-creators and stars Kaitlin Olson, Rob McElhenney, Charlie Day, Glenn Howerton, and Danny DeVito. With Season 14 wrapping, the show has gained many loyal followers, making it easier for the gang to spread their wings with other projects.
When not working on It's Always Sunny in Philadelphia, Kaitlin Olson and Glenn Howerton have had regular television gigs on major networks. Charlie Day has gained sizable movie credits over the last few years working with a-listers like Jamie Fox, Jennifer Aniston, and Sterling K. Brown, while Rob McElhenney has continued to expand his producer and acting credits. In moving beyond the world of their show, the Always Sunny team has made Hollywood connections that could lead to even more awesome guest stars on the series.
Below are 14 actors we would love to show up on It's Always Sunny in Philadelphia. Some were chosen because of their connections to the team behind It's Always Sunny in Philadelphia, while others were picked mainly because of how perfectly their acting and comedic abilities could fit within the It's Always Sunny world.
Terry Crews
Terry Crews has over 20 years of acting experience, appearing in big-screen comedies like White Chicks, Click, Bridesmaids, and Scary Movie 5. He currently appears as the pec-popping Terry Jeffords on Brooklyn Nine-Nine.
It's easy to see that Terry Crews would be Mac's dream guy. Look at him: he cultivates mass like no one else, especially Dennis, so why not cast Crews as Mac's potential boyfriend? Let Mac have his dream romance, only to have it all go downhill by the end of the episode due to the gang's interference. Terry Crews is great at playing both over-the-top characters and the "straight" man in a comedy duo, so he could go super-quirky or far too normal when meeting the codependent gang.
Danny McBride
Danny McBride is an actor, comedian, writer, and producer. He's best known for his HBO series Eastbound and Down, Vice Principals, and The Righteous Gemstones, as well as his movie appearances in Pineapple Express, Tropic Thunder, and This is the End.
Danny McBride knows how to create great television, and screwed-up characters that retain likability. He could bring his ribald comedic prowess to the It's Always Sunny in Philadelphia set. McBride and Kaitlin Olson worked together in a movie called Arizona, so there is already a connection there that could bring McBride's wacky energy to FXX. The question is, would he work on a TV show that isn't HBO at this point?
Taika Waititi
Taika Waititi is a New Zealand comedian and filmmaker responsible for acclaimed comedies like Jojo Rabbit, What We Do in the Shadows, and Eagle vs Shark. He has also directed Thor: Ragnarok and the upcoming Thor: Love and Thunder.
Taika Waititi may not seem like a natural fit for It's Always Sunny in Philadelphia, which would make his guest appearance all the more fun and hilarious. Waititi may be too busy writing and directing movies to give more than a five-minute cameo, but it would be a glorious five minutes. His potential appearance on It's Always Sunny in Philadelphia is also more of a possibility with Taika Waititi's TV version of What We Do in the Shadows also appearing under the FX Networks umbrella. Network camaraderie could make this dream a reality.
Ali Wong
Ali Wong is a stand-up comedian whose star is on the rise. She has appeared in films like Always Be My Maybe, and shows like American Housewife and Big Mouth.
Ali Wong's persona and blend of comedy would work very well in the Always Sunny universe. We can easily imagine Wong playing someone like a bank manager unwittingly forced to listen to some off-the-rails stories about why the gang is seeking a business loan. She wouldn't just sit there as a prop to make faces, of course, but would hopefully become an increasingly more aggravated force of nature, similar to Kerri Kenney's guest appearance as a therapist in "The Gang Gets Analyzed."
George Lopez
George Lopez is best known for his bold stand-up comedy act, but he also has screen credits that includes the TBS show George Lopez, Reno 911!, The Smurfs, Beverly Hills Chihuahua, and Curb Your Enthusiasm.
Never the one to shy away from controversial comedy, George Lopez fits right in with the gang. He could play literally anyone on an episode and it would be the right choice, though hijinks with Danny DeVito would be amazing. In most of George Lopez's network sitcoms, he's had to play to more of a family-friendly audience, but on It's Always Sunny in Philadelphia, he could run free and not shy away from any problematic storytelling.
Emily Deschanel
Emily Deschanel is an actress best known for her role as Dr. Temperance "Bones" Brennan in the Fox series Bones. She made her television return this summer in Animal Kingdom.
There are a wide range of possibilities for Emily Deschanel's guest appearance, but it would obviously be the most fun to set up some storyline where Emily Deschanel has to interact with real-life husband David Hornsby, who plays Cricket (as well as writes and co-produces). Could any normal person love a street rat like Cricket? Probably not, but we would love to see them interact on It's Always Sunny in Philadelphia. Deschanel could also play anyone from a new McPoyle to a random civilian forced to interact with the gang.
Rob Lowe
Rob Lowe has had a long film and television career that started in the '80s. He's most known for his appearances in The Outsiders, St Elmo's Fire, Wayne's World, The West Wing, and Parks and Recreation, and he'll soon star in Fox's spinoff 9-1-1: Lone Star.
Nowadays, Rob Lowe has something of a squeaky clean television image, but watching him get driven completely mad makes him perfect guest-star material for It's Always Sunny in Philadelphia. Getting Lowe on It's Always Sunny in Philadelphia might be very possible, considering Mary Elizabeth Ellis (The Waitress) used to star with Lowe on the short-lived The Grinder, which also starred Fred Savage, who used to be one of It's Always Sunny in Philadelphia's producers and recurring directors. Having Lowe on the show would be basically a two-step process.
Amy Sedaris
Amy Sedaris is a well-known comedian, writer, and actress. She's most known for her role on Strangers with Candy, and currently leads the truTV series At Home with Amy Sedaris.
Amy Sedaris excels at creating unusual characters. We would love to see her add her unique brand of comedy to the It's Always Sunny in Philadelphia world. Additionally, Kaitlin Olson getting screentime with Sedaris could be the stuff of comedy gold. Amy Sedaris could easily become a long, lost Reynolds family member; maybe Dennis and Dee have another aunt they forgot to mention.
Wanda Sykes
Stand-up comedian Wanda Sykes is best known for her roles in Black-ish, Curb Your Enthusiasm, and Evan Almighty.
Can you imagine Wanda Sykes' poor character having to deal with the gang? Whoever she would play, I'd expect lots of frustration dealing with not only Frank, but whatever antics Dennis and Dee have in store. Sykes' skills would possibly best be suited for someone forced to interact with the gang through the criminal justice system, perhaps as a community service coordinator who keeps having to discipline the characters for all the times they fail to do their assignment. Sykes would bring a lot of agitated fun and cleverness to an It's Always Sunny in Philadelphia appearance.
The Workaholics Trio
For years, people have compared Workaholics to It's Always Sunny in Philadelphia. The stars and creators of Workaholics – Blake Anderson, Adam DeVine, and Anders Holm – have often expressed their admiration and love for It's Always Sunny in Philadelphia, and they even gave a nudge to the series during Workaholics Season 7 with Anders Holm wearing a Paddy's Pub T-shirt.
It's Always Sunny in Philadelphia and Workaholics actors have collaborated in the past, so this should be a natural transition. Additionally, it would kind of be funny if Blake Anderson, Adam DeVine, Anders Holm, and even Jillian Bell play alt-universe versions of Charlie, Mac, Dennis, and Dee. Thus bringing everything full circle to It's Always Sunny's comparison-connection to Seinfeld.
Scott MacArthur
Scott MacArthur is a mostly comedic actor best known for his appearances on The Mick, The Righteous Gemstones, and El Camino: A Breaking Bad Movie.
Kaitlin Olson's underrated Fox comedy The Mick ended far too soon, only lasting two seasons. Besides Olson's stellar job as the lead, the show had a great supporting cast, including Scott MacArthur. It's time that everyone gets The Mick reunion that the world deserves. Of course, we would love to see Olson and MacArthur reunite on screen, but we would also like to see how he interacts with the other cast. Scott MacArthur should fit right along in the It's Always Sunny in Philadelphia world. Almost too well, even.
Kit Harington
Kit Harington is a dramatic actor, best known for his role as Jon Snow in Game of Thrones, though he's shown off his comedic chops opposite Andy Samberg in HBO's comedic mockumentary special 7 Days in Hell.
The team behind It's Always Sunny in Philadelphia loves Game of Thrones, and they have used that love to develop a bond and a couple collaborations with Game of Thrones showrunners David Benioff and D.B Weiss. We would love to see the It's Always Sunny in Philadelphia and Game of Thrones crossovers continue with Kit Harington. Harington's dramatic persona interacting with the very comedic world of It's Always Sunny is enough to win him the Iron Throne, which is likely just one of Charlie's toilets.
The It's Always Sunny in Philadelphia world has the potential for almost any comedic or dramatic actor to excel. It gives them a freedom that not too many shows afford. It's Always Sunny in Philadelphia season 14 is currently airing, so we could easily see one or two of these guest stars in future episodes.
Spent most of my life in various parts of Illinois, including attending college in Evanston. I have been a life long lover of pop culture, especially television, turned that passion into writing about all things entertainment related. When I'm not writing about pop culture, I can be found channeling Gordon Ramsay by kicking people out the kitchen.