Fans Can Revisit Friday Night Lights On ESPN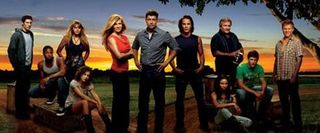 The acclaimed drama Friday Night Lights has swapped teams over the years. The program began its five season run on NBC before being picked up by DirecTV's The 101 network, only to have re-airings subsequently played back on NBC. Now, ESPN has announced reruns of the soon-defunct show will air on ESPN and ESPN Classic. The announcement couldn't have come any sooner, because ESPN is planning to begin airing Season 1 episodes on July 12, the same day Friday Night Lights ends its run on DirecTV and NBC.
The move to ESPN and ESPN classic is kind of a surprise. At its heart, Friday Night Lights has arguably been more of a show about family, friendships, and the various relationships people can foster. ESPN seems more than willing to take the other side of that debate, though. ESPN Classics vice president and executive producer Connor Schell even released a statement, saying:
According to The Wrap, Bill Simmons had a hand in drumming up business for ESPN's new program. His new website Grantland.com will even publish an oral history of the program. Rerun programming is a difficult beast, and I'm sure ESPN is happy to have Bill Simmons around to bring critical attention to Friday Night Lights. Pop culture icon or no, Simmons often delves into thousand upon thousand word editorials, so the oral history he's planning is less of a sure thing.
Your Daily Blend of Entertainment News
Thank you for signing up to CinemaBlend. You will receive a verification email shortly.
There was a problem. Please refresh the page and try again.