First Look At All-Star Holiday TV Special How Murray Saved Christmas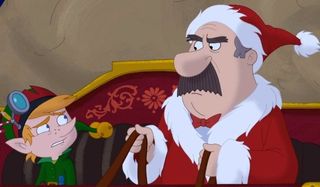 Its time to get ready for a new potential holiday animated classic. And it is not what you would expect by any stretch of the imagination! Below, enter the world of How Murray Saved Christmas starring none other than perennial mensch Jerry Stiller. But that's not all! Seinfeld alum Jason Alexander is also onboard as is sitcom staple Sean Hayes and Dennis Haysbert narrating the soon to be classic tale.
The best selling children's book about a cranky deli owner named Murray Kleiner (Stiller) who gets the nod to be Santa after the real Claus knocks himself out with one of his workshop's toys looks to be a wildly entertaining entry into the holiday canon. And why do the elves think that Murray should take the mantle of Santa? Because his deli offers free delivery of course! Gotta laugh out loud at that one. It is nice to see a mash up of cultures in the very busy holiday season combining the world's religions into a hybrid of hilarity. The traditional story of Christmas is thrown out the window and given a new spin that is sure to catch on with kids and adults alike.
Also in the cast is Toy Story and Cheers vet voice actor John Ratzenberger. And the pedigree bringing How Murray Saved Christmas to life is nothing to sneeze at. None other than veteran Simpsons writer/producer and one time show runner Mike Reiss who wrote the children's book of the same name is ready to see his beloved new characters come to life in NBC's hourlong holiday animated adventure.
Adding to the production is Walter Murphy of Family Guy fame who will be composing the music for the special and hopefully come up with some new holiday classics. Producer Reiss is no stranger to children's stories and has published a whopping seventeen kids books. He has even won an Edgar Award for his work on Cro-Magnon PI. So this new entry with his Murray finally getting the animation treatment has been a long time in the works and NBC is giving it a primo spot on Friday December 5th at 8 PM. Attempts at making a holiday episode become a classic is are old hat for the networks, Murray genuinely feels like it is going to be something special.
If it is anything like the children's book, How Murray Saved Christmas is sure to become a holiday staple. The three minute clip above gives a great look into the non-traditional animated special and if executed correctly, Murray and company can win us over and become the new narrative for the Christmas and Hanukkah season. With this kind of A-list talent pool, it is hard to think that Murray is going to disappoint on any levels. It will have the laughs and along with some legendary comedic talent, it is gunning for Frosty and Rudolph!
Your Daily Blend of Entertainment News
Your Daily Blend of Entertainment News
Thank you for signing up to CinemaBlend. You will receive a verification email shortly.
There was a problem. Please refresh the page and try again.