First Look At Katie Holmes As The Slutty Pumpkin On How I Met Your Mother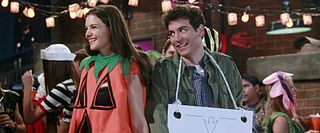 One of the best things about the CBS sitcom How I Met Your Mother is that co-creators Carter Bays and Craig Thomas are creating a whole mythology of running gags within the show. One of HIMYM's ongoing references is the mysterious "Slutty Pumpkin" that Josh Radnor's Ted has been searching for every Halloween for years, and now we get our first look at her in the upcoming "Perfect on Paper" episode.
It was announced (opens in new tab) recently that Katie Holmes, Mrs. Tom Cruise, would be stepping in to don the mantle of the now legendary Halloween hook-up, but with the episode's holiday air-date approaching, we now get to see some photos of Katie in costume. I was expecting a much sluttier pumpkin, but it is nice to see Ted bring back his Hanging Chad costume (and Barney as Apollo Creed and Robin as a Vancouver Canuck doesn't hurt, either). Although, with the title of the episode being "Perfect on Paper," I don't think this thing is going to work out...
It's cool that the show has so many in-jokes, characters, and pop cultural references that serve to create the feeling of a genuine history for Ted, Marshall, Lily, Robin, and Barney. HIMYM is also one of the few shows that truly speaks to early thirty-/late twenty-somethings audience, what must be the emerging dominant demographic. Personally, I would love this show if I could tolerate Josh Radnor for 22 minutes a week. I can barely stand the blandest lead actor on television for two minutes, which is a shame since the rest of the cast kills.
How I Met Your Mother airs Monday nights on CBS at 8 p.m. ET/PT. It stars Josh Radnor, Neil Patrick Harris, Cobie Smulders, Jason Segel, and Alyson Hannigan. It was created by Carter Bays and Craig Thomas.
Your Daily Blend of Entertainment News
Thank you for signing up to CinemaBlend. You will receive a verification email shortly.
There was a problem. Please refresh the page and try again.