The Flash Is Finally Back Next Week, Here Are 5 Exciting Details About Out Of Time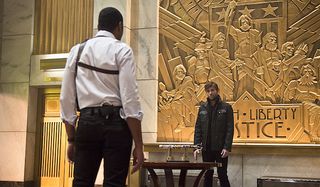 Minor spoilers for The Flash episode "Out of Time" are ahead."
It's been over three weeks since fans got a new episode of The Flash, but the agonizing wait is almost over! On March 17 the series returns with a new episode called "Out of Time." The last time we saw these characters, they helped Firestorm escape from General Eiling's custody. When Flash and the S.T.A.R. Labs team return, they will have a new metahuman to combat: the new Weather Wizard!
In addition to a weather-controlling villain, this episode will feature also feature other exciting things, including possible revelations about one of the main characters and bowling! Going off the episode description and preview, as well as a part of another preview that showcased all the villains we'll see in the next three episodes, here's what we can expect to see from Episode 15 of The Flash.
5. There's A New Weather Wizard In Town
Clyde Mardon was the first metahuman that Barry faced as the Flash, and while he was able to stop the criminal from sending a tornado to Central City, it was Joe that delivered the killing shot to Clyde. Now his brother Mark, played by Spartacus actor Liam McIntyre, is back in town, and because he was with Clyde on the plane when the particle accelerator exploded, he has the same weather-controlling powers. With them he's going to seek revenge against Joe for killing his brother. From shooting lightning bolts to creating a sinister fog to even producing a gigantic tidal wave (as seen in the preview), it looks like the new Weather Wizard will be one of the most powerful metahumans that show has given us so far, so it's a shame that Joe is his target.
4. Joe Finds Himself In Danger
Barry may be able to save Joe the first time, but someone as hell-bent on revenge as Mark isn't going to stop after just one try. While it's understandable that Joe doesn't want to put Barry or Iris in danger for an act he committed, you'd think he know by now that these type of threats can rarely be dealt with by a regular human alone. Whatever Joe ends up doing to track down Mark is going to backfire, and Barry and the S.T.A.R. Labs team will have to rescue him before Mark takes lethal action.
3. Mark Is More Powerful Than His Brother
In the inside-look video of "Out of Time," there's a clip where Barry comments on how Mark's powers are more focused than Clyde's, specifically the degree of precision he has indoors. This isn't too surprising. Nine months passed between the particle accelerator explosion and when Flash hit the scene, and an additional five-six months have passed since Clyde was shot. That gives Mark niof time to practice manipulating the weather. While Barry has also been practicing with his abilities, Mark is definitely going to be one his most difficult challenges. On a side note, there's also the extreme likelihood that Mark will be recruited to a certain villainous group in the neat future ('cough' 'cough' The Rogues 'cough').
2. Cisco Starts Having Doubts About Dr. Wells
Joe recruited Cisco to help him find more clues about Nora Allen's killer. After finding the blood sample at Barry's old house, Joe asked Cisco to run it against Harrison Wells sample, Cisco was peeved. He explained how much Wells means to him, saying that Wells was the one who gave him a chance at S.T.A.R. Labs. He thinks the world of him, which is why he could never imagine the doctor murdering anyone. However, after reexamining what happened the night they caught Reverse-Flash, Cisco has apparently found something that has colored his opinion of Wells. Judging from the shot above, it looks like Cisco may even discover that Wells is the Reverse-Flash, or at least learn that he has been lying to him, Barry and Caitlin.
1. It's Double Date Time!
Barry and Linda Park have been dating for a few episodes, and Iris has interacted with her as well, but now it's time for the two couples to go on a double date together. The promo images for "Out of Time" show that the foursome will be hanging out together at a bowling alley, which begs the question of whether Barry can somehow secretly use his speed to bowl excellently. Regardless, it will interesting to see how this outing goes. Iris didn't make a great first impression with Linda. Although Barry claims not to have feelings for Iris anymore, Iris hinted Linda, whether inadvertently or on purpose, that Barry still wasn't over her. Evidently things will still be awkward, so hopefully there will be some humorous moments to break the tension.
Connoisseur of Marvel, DC, Star Wars, John Wick, MonsterVerse and Doctor Who lore. He's aware he looks like Harry Potter and Clark Kent.
Your Daily Blend of Entertainment News
Thank you for signing up to CinemaBlend. You will receive a verification email shortly.
There was a problem. Please refresh the page and try again.