The Following Season 2 Finale Preview: No One Is Safe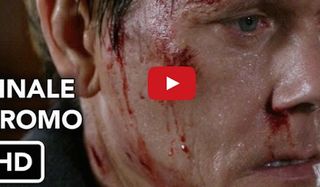 "Spoilers if you aren't caught up on The Following Through Season 2's penultimate episode, "Silence."
Last night's episode of The Following took out a key player in this story, and left another in major jeopardy. The above preview gives us a look at next Monday night's season finale, "Forgive."
Joe Carroll has found religion. Or he found a church, technically, and that was the setting of last night's episode, which left off with Mike being held at gunpoint by Joe Carroll. The screen went black seconds before the gun fired. Did he shoot Mike? I'm going to guess no, and not just because I am still convinced Mike is a super-secret Joe Carroll follower. But because the preview includes this very quick glimpse...
...which might be Mike on his knees, and Ryan standing with his hands up. It's hard to see, but if that's the case then I'm thinking maybe Joe fired a warning shot to smoke Ryan out. And like I said, I remain convinced that Mike Weston is secretly one of Joe's followers, assigned to get close to Ryan, which he did in the first season and again in the second season. But if Mike ends up dead in next Monday night's season finale, I'm probably wrong. Still, I can't help but think that his choice to shoot Lily Gray might have been a deliberate act to prove to Ryan that he's more than willing to cross the line, which is something Ryan's been doing all season.
Let's move on to other Following characters, like Emma, may she rest in all the peace and quiet she liked to believe would be waiting for her when death came. It was Claire who did the honors there, somewhat fittingly enough when we consider their history and connections to Joe. And then there's Luke and Mark, who seem up for anything at this point, including tormenting Ryan Hardy and possibly killing Claire? (For real this time?)
Will Season 2 end with something horrible happening to people, resulting in Ryan having to accept at least some of the blame for it somehow? That seems to be implied at the end of the preview, which ends with the line, "And you're going to have to suffer knowing that they all died because of you." That does sound like something Joe would want to put on Ryan.
Finally, will Joe die? It's not entirely out of the question, especially with the "no one is safe" tease. The show is actually called The Following after all, and his following can certainly live on without him as leader. It's also possible that he'll be re-incarcerated. I'd actually prefer that, as it would keep James Purefoy on the show but limit Joe's reach a bit, making for some interesting challenges, especially if his following continues to act on his behalf. We'll have to wait and see how The Following Season 2 leaves off when it airs next Monday night at 9:00 p.m. ET on Fox.
And in case you're wondering, yes, The Following has been renewed for Season 3 already!
Kelly joined CinemaBlend as a freelance TV news writer in 2006 and went on to serve as the site's TV Editor before moving over to other roles on the site. At present, she's an Assistant Managing Editor who spends much of her time brainstorming and editing feature content on the site.
Your Daily Blend of Entertainment News
Thank you for signing up to CinemaBlend. You will receive a verification email shortly.
There was a problem. Please refresh the page and try again.