Fox's Alcatraz Swaps Out Showrunners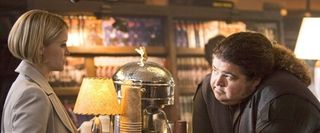 Fox's Alcatraz is one of the more fascinating upcoming shows. Produced by J.J. Abrams, it looks to have the potential to be the next Lost thanks to a crazy-twisty storyline involving inmates from the infamous prison vanishing and reappearing several decades later in modern San Francisco. Hell, it's even got ex-Hurley Jorge Garcia in the cast. Unfortunately, it sounds like there may be some turbulence in the waters surrounding Alcatraz. Deadline reports that showrunner Elizabeth Sarnoff is leaving the show over creative differences.
This is the sort of thing that happens a lot, but you never like to see it going down on a show you're looking forward to. Especially since Sarnoff was a veteran of shows such as -- what else? -- Lost, Deadwood, and NYPD Blue, so she's clearly not lacking in talent. Prior to this departure, Sarnoff was running Alcatraz with Jennifer Johnson (Chase). Johnson will continue her showrunner duties, with screenwriter Daniel Pyne (Fracture, the Manchurian Candidate remake) stepping into Sarnoff's vacant role.
Sarnoff was on board with Alcatraz from the beginning, having written the script that got the show picked up to pilot, so it's a real shame to see her depart. Maybe her vision for the show wasn't lining up with that of the other producers, maybe there's some other behind-the-scenes drama; who knows? Deadline says Sarnoff's departure was involved in Fox and Bad Robot's decision to halt production for reshoots a few weeks back, so obviously the production is trying to find its footing before moving forward. Hopefully the new showrunners will get things back on track and this turmoil won't damage the show's quality once it hits the airwaves in the midseason.
Your Daily Blend of Entertainment News
Thank you for signing up to CinemaBlend. You will receive a verification email shortly.
There was a problem. Please refresh the page and try again.