Fox Bringing In Living Color Back With Two Specials This Spring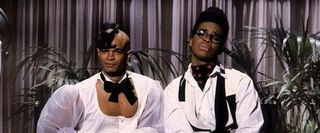 Fox just sent word that next year, they'll be airing two half-hour specials described as an "updated version" of the '90's sketch comedy series In Living Color. Exact dates have not been announced, but we should expect to see them in Spring 2012.
Could Fox be testing the waters for a series comeback? It's possible. As of right now, it's just the two 30-minute specials, which will be hosted and executive produced by Keenan Ivory Wayans, who created/exec-produced the original series, which helped put the Wayans brothers, Jim Carrey, Jamie Foxx and Jennifer Lopez on the map once upon a time.
These specials may be meant to help expose some "fresh, young talent" to fans of the original series, but perhaps if things work out, In Living Color will make a full comeback on the network. In the meantime, Jennifer Lopez as one of the performing "special guests" would be fitting, considering she also serves as host of Fox's hugely popular American Idol. A bit of cross-promotion would certainly benefit the ILC specials. Then again, she might be too busy with Idol to squeeze it in.
There's plenty of time for Fox to work the details out there. In the meantime, here's a clip from an old In Living Color sketch.
Your Daily Blend of Entertainment News
Thank you for signing up to CinemaBlend. You will receive a verification email shortly.
There was a problem. Please refresh the page and try again.