Fox's Fringe Releases Past, Present, Future Recaps Before Season 4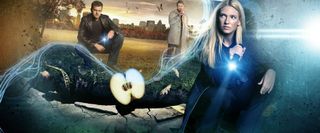 There are very few series on American television that are truly demanding of it's audience. Some of the previous great and demanding shows include Lost and Arrested Development, and people were engaged enough in the mystery or the hook to stick it out with the former but the density of the comedy in the latter led to cancellation. Fringe is one of these shows, which is why they've released these helpful little recaps videos in anticipation of the upcoming season.
Actually, Fringe may be the most demanding show I have ever watched. If you missed one episode in the second half of last season, forget about it, you're already worlds behind. This obviously has its advantages and drawbacks, you create a rabid fan base who will definitely tune it (DVR) it each and every week but you'll also alienate a lot of viewers, especially those trying to jump in mid-stream.
Still, I would heavily recommend those who haven't watched to go back and give it a whirl. Season 1 is light on the overall narrative, focusing more on an episodic, case based show each week until the heavy serialized nature of the show amps way up in the second and third seasons. Not sure you want to make that kind of commitment? Take a look at these excellent recap videos, that should at least point you in the right direction before Season 4, while also given you enough of a taste to decide for yourself if Fringe is worth a(nother) look. I've included two of the ten featurettes, the rest can be seen at Fox's YouTube Channel (opens in new tab).
Fringe - "Past + Present + Future: A Tragic Past"
Fringe - "Past + Present + Future"
Fringe Season 4 returns to Fox on Friday, September 23rd at 10 p.m.
Your Daily Blend of Entertainment News
Thank you for signing up to CinemaBlend. You will receive a verification email shortly.
There was a problem. Please refresh the page and try again.