Friday Night Lights: The Greatest Show You're Not Watching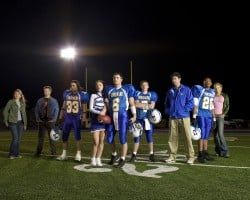 "Clear Eyes, Full Hearts…. Can't Lose"
So goes the rallying cry for one of the most underappreciated shows of all time. By now you have probably heard of Friday Night Lights or seen a commercial or two, but, judging by the abysmal ratings for this show, have never bothered to tune in.
Shows about high school are tricky ventures. The ones that do it right (My So-Called Life, Freaks and Geeks) are so short lived as to barely register on the public viewing consciousness. The others (Beverly Hills 90210, The OC, Gossip Girl) are so ridiculous that calling them high school dramas is probably only true in that the characters occasionally attend something totally unlike any high school you could ever imagine. In addition, all of these shows are centrally and almost exclusively focused on a core group of students. This is a long term problem in how to make the main players age. If the program keeps going forever, we need to assume these characters just live in some perpetual time warp until they either look too old to still be attending high school (Dylan McKay) or the writers think they can come up with some conceivable way to keep everyone together into college. No easy or realistic venture.
Friday Night Lights diverges from this mold. Actually, it diverges from a number of different molds. It is a sports show about the coaches and the boosters as much as it is about the players; a high school drama that focuses on the parents and kids almost equally. In all, it is about the high school you actually remember; full of the pettiness, backstabbing and angst, but without the entertainment driven melodrama or breaks from reality that encompass those other high schools we have seen on television. In the end, Friday Night Lights is not concerned about "the problem" of its characters moving on with life. They grow up and new characters come along with their own sets of issues. Life goes on, high school stays the same.
"I was living in a Devil town... Didn't know it was a Devil town..."
Friday Night Lights is, first and foremost, a show about the characters and their quest to find meaning in a life that most of them are quickly finding out, has only struggles waiting for them. What happens when the lights go off on the field and the real world awaits? How do I get out of a small town? How can I become bigger than what is expected or assumed of me? Director Peter Berg's characters face issues prominent in our everyday life without being heavy handed about it. They deal with love, family, infidelity, racism, teen pregnancy, alcoholism, sex, money, and identity without ever making the viewer feel like they are watching an after school special. This is no small feat. Most of the issues are so quietly and subtly introduced, the viewer notices them only in the passing of scenes.
Season Two almost fell into a ratings trap where the writers felt they needed a sensational hook to draw viewers. I won't go into the ridiculous premise, but it threatened to ruin the show. Friday Night Lights was, in many ways, saved by the Writer's Strike as they were able to sweep the conclusion to the season under the rug and start anew. This allowed the show to go back to its roots: the characters.
"When you threw that pass, that winning pass, did you close your eyes?"
"My eyes were open sir. My eyes were wide open."
Driving the show, for me, are Coach Eric Taylor and quarterback Matt Saracen. These two are likable, relatable and real. So real in fact that my wife wants to marry Taylor and her younger sister wants to date Saracen. They seem real. They are real. Taylor is a coach on the perpetual hot seat and Saracen is a backup quarterback with the weight of the team and his family on his shoulders.
The beauty is that while these characters are the ones I enjoy the most, they may not drive the show for all viewers. There is Riggins, the alcoholic, orphan fullback; Buddy Garrity, the team's head booster; Brian "Smash" Williams, the trash talking superstar; Jason Street, the injured quarterback; and Julie and Tami Taylor, coach's daughter and wife who look to find their own place inside the town of Dillon but outside the world of football; along with a litany of others.
And among all these is the football. Football is a character that shares the stage with the other residents of Dillon without stealing any of the scenes. It sleeps with them, eats with them, goes out with them, lifts them up and breaks their hearts. The sport has a personality all its own and it shines through in the love (and hate) the town has for the Panthers. Berg and company work its affect on the town seamlessly into the inner workings of the show.
"Why's this mean so much to you?"
"Because I need something good to happen."
To call a show, "the most underappreciated ever" is a bit folly as it assumes I have seen all the other shows no one ever appreciated. I haven't and can't because they have all been cancelled. I would never beg someone to watch Friday Night Lights. Coach Taylor would tell me to be a man. If the show is going to hang around, it will and if it is getting cancelled a little article like this won't stop it. Instead, I will give you the perspective of starting from the beginning.
A few months ago, at the beginning of Season Three, my wife, sister-in-law Courtney and I sat down to watch the season premiere. Courtney had never seen the show. As we watched, I found myself pausing the Tivo more and more to explain a conversation, a relationship, or action and how it related to the overall story. After a while I said screw it, paused the show and went on Hulu. We watched Season One, episode one. Two things happened. First, Friday Night Lights gained a new viewer; one so excited about the show that I now get texts like "OMG Saracen," or "How have I not been watching this show yet?" Second, watching that first episode reconfirmed what it is about television that makes us watch, invest and love it. In that first episode, Friday Night Lights establishes something that dares the viewer to stop watching; knowing full well you won't be able to. I challenge you to go to Hulu and watch the first episode. Start with a blank slate. Find yourself in the show and watch it with your eyes wide open.
"Clear Eyes, Full Hearts… Can't Lose"
Doug began writing for CinemaBlend back when Terminator: The Sarah Connor Chronicles actually existed. Since then he's been writing This Rotten Week, predicting RottenTomatoes scores for movies you don't even remember for the better part of a decade. He can be found re-watching The Office for the infinity time.
Your Daily Blend of Entertainment News
Thank you for signing up to CinemaBlend. You will receive a verification email shortly.
There was a problem. Please refresh the page and try again.