New Girl Casts Dennis Farina To Play Jake Johnson's Con Artist Father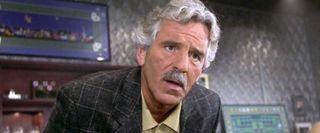 Of the too many sitcoms spread across too many networks, New Girl might be the most consistently funny. Obviously that's a testament to the writing but most television comedy success stories are made in the casting and the Fox sophomore hit is no exception. Zooey Deschanel's (lovably) awkward lead and Max Greenfield's supporting bro tend to get most of the recognition but Lamorne Morris has been great with the unenviable task of stepping in as a replacement and Jake Johnson regularly steals the show.
Johnson's Nick Miller probably gets the most laughs from me and who they've brought in to guest star as his father is a real casting coup. According to TVLine, New Girl has decided to structure an upcoming episode around a visit from Walt Miller, who is not only a charming con-man but will also be played by the great Dennis Farina. Is there anything about that last sentence that isn't awesome? The only thing more perfect than Nick's dad being a grifter is casting Farina in the part.
The veteran actor (and former police officer) is famous for so many great supporting roles, Get Shorty and Out of Sight instantly spring to mind, and is a deft with comedy as he is with drama. It doesn't hurt that Farina kind of looks like he could be Johnson's father in real life - picture the turtle faces - or that the two both speak with the same Chicago accent. Set to air early next year, the episode will feature a surprise visit from Mr. Miller which raises his son's suspicions but piques his roommates' curiosity. Who wouldn't want to know how/why Nick turned out the way he did?
New Girl airs Tuesdays at 9 p.m. ET on FOX. Created by Elizabeth Meriwether, the comedy stars Deschanel, Johnson, Greenfield, Morris, and Hannah Simone.
Your Daily Blend of Entertainment News
Thank you for signing up to CinemaBlend. You will receive a verification email shortly.
There was a problem. Please refresh the page and try again.