Glee Adds Nolan Gerard Funk As A Dalton Academy Warbler In Season 4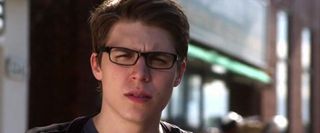 The Dalton Academy Warblers are headed back to Fox's Glee, and they are bringing a new "head Warbler" with them. Canadian actor Nolan Gerard Funk is joining the cast as a member of the all-boys private school, and he'll be bringing some stiff competition to William McKinley High's New Directions club.
Funk is set to play Hunter, who seems as if he will be an adequate, if not rather smart, leader of the Warblers. According to TV Line, Hunter's first task as the new head of the Warblers will be to lure Blaine back on to the team. As usual, some Glee characters seem to be willing to do whatever it takes in order to have a better chance at the Nationals competition! The Dalton Academy Warblers have been a major competitor to the New Directions club in the past, and it will be interesting to see if the new leader will sink the all-boys school, or make the team stronger.
Funk has been a part of a few diverse musical endeavors in the past, including Nickelodeon's Spectacular! and Bye Bye Birdie's Broadway revival (He actually got to play Conrad Birdie, which is pretty impressive). If you haven't heard his name or caught him in any of these, it's pretty understandable, but the kid's also appeared in Warehouse 13 and the recent horror flick House at the End of the Street (he's the bully who gets his ankle broken). Now we've seen his acting credits onscreen, it will be nice to hear his singing voice, as well. Funk will appear in the seventh episode of Season 4, called "Break-up."
Fox's Glee airs on Thursdays at 9 p.m. ET.
Your Daily Blend of Entertainment News
Thank you for signing up to CinemaBlend. You will receive a verification email shortly.
There was a problem. Please refresh the page and try again.