Glee Reaction - Sectionals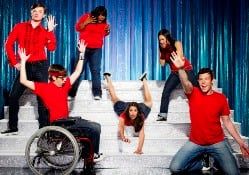 Tonight's "Sectionals" marked the last episode for Glee for quite awhile (It won't be back until April) and sent the show into hiatus on a very strong note. While Glee had its ups and downs, the last three episodes have gone a long way toward solidifying Will, Rachel, Finn and company as one of the more entertaining casts on television. Even when Glee has occasionally faltered in its message, the dialogue and cast interaction have always been pretty spot on. Tonight's episode combined the four things Glee does best: biting one-liners, fantastic music, high production value, and a little tug on the heartstrings.
"I've never told you guys this before. But I'm a little psychic... It's not like Carrie or anything." – Rachel
Rachel thinks she knows what everybody else already actually knows: Puck is the real father of Quinn's baby. She decides to tell Finn. Whether it's because she thought the news was something Finn deserved to hear or she figured it would drive him away from Quinn, it only ended in him beating up Puck, dumping Quinn and quitting Glee Club. This, along with Rachel getting bumped from singing the ballad at sectionals by Mercedes, had the Glee club on somewhat awkward footing heading into sectionals.
"We just pushed it (the wedding) back a few hours. Now it doesn't need to happen in broad daylight." – Emma
Since MattressGate ousted Will from coaching Glee, Emma volunteers to stand in. At sectionals, Sue Sylvester's machinations finally came to a head when the other schools steal McKinley's se tlists forcing Rachel and company into a quasi-panic. From this moment on Glee really showed just how far it has come in such a short time span. The last half hour of "Sectionals" was possibly the best half hour of the show yet, cheesy endings and all.
"Sometimes being special sucks." - Will
As much as Rachel is the true star of Glee Club, Finn is the linchpin that keeps the group together. Tonight was the true testament to this when he comes through with a revised set list including encouraging an unbelievable version of "Don't Rain on My Parade," (really showcasing Lea Michele's phenomenal vocals) and providing a somewhat stripped down (in Glee fashion at least) rendition of "Can't Always Get What You Want." These two numbers highlighted aspects of Glee's music that I like most. The production was toned down in both, instead relying on the cast's voices which can more than carry any number.
These two numbers also kept the dust flying around the Norrie house while we watched Will react to each of the numbers as he listened over Emma's cell phone. Matthew Morrison has been particularly strong these last three episodes as he's run the gamut of emotions with complete believability. From anger at Terri, to heartbreak over sending the Glee kids off on their own, to incredible price in their accomplishments, to realizing what he really wants (Emma), Morrison has been the true star of the show. He anchors the cast which will prove wildly important as the show moves into the second half of the season.
"I can't see you without feeling heartbroken." - Emma Pillsbury
In the end, Glee took the relatively obvious path with the kids winning sectionals and Will winning Emma's heart before she left the school. That's fine. Glee is meant to be a feel good show with real world problems. In this aspect, they pulled off the first half of the season fantastically and ended it in perfect fashion. As the group sings "My Life Would Suck Without You" Will catches Emma and cuts with the two kissing and just smiling at each other.
All in all, a great ending to the first half of the season. The Sue vs. Will feud still leaves McKinley High as a potential battleground and I liked not carrying over the Emma and Will, "will they or won't they?" anymore than is needed. We all knew they were getting together and it made the ending even sweeter because they didn't need any words to get their point across. Glee is a show just hitting its stride and I am expecting big things in April. Bring on Vocal Adrenaline!
Highlights and thoughts:
- Is this the end of Terri? I think the ending left very little doubt. I just can't imagine a scenario where Will finds a reason to head down that path again.
- I loved Arnie's suggestion to use his Def Poetry Jam as a possible number to perform at sectionals.
- Again Dianna Agron (Quinn) proves she shouldn't ever be asked to cry on camera. She should consult the Joey Tribiani book on ripping out hairs to create the perfect onset of tears. Hers are just so unbelievable.
- Sue heads down to Boca to "brown up," rest and conjure up ways to make Will's life a living hell.
- I was actually a little surprised the other schools ended up doing McKinley's setlist. I guess I knew the show was headed that way, it just seemed a little weird.
- It will be interesting to see how the Quinn pregnancy thing plays out from here on, especially if Terri is out of the show and Finn wants nothing to do with her. I think this storyline is an opportunity to do something very strong with the writing. It leaves a fair amount of questions as to how she handles the pregnancy going forward, who her support system turns out to be and what happens to her as a young woman.
Doug began writing for CinemaBlend back when Terminator: The Sarah Connor Chronicles actually existed. Since then he's been writing This Rotten Week, predicting RottenTomatoes scores for movies you don't even remember for the better part of a decade. He can be found re-watching The Office for the infinity time.
Your Daily Blend of Entertainment News
Thank you for signing up to CinemaBlend. You will receive a verification email shortly.
There was a problem. Please refresh the page and try again.