Glee Season 2 Out In September, Promises Slew Of Extras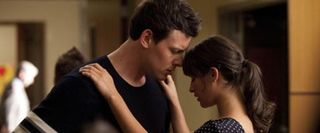 The 2011 official Glee tour ended a couple of weeks ago, and with The Glee Project underwhelming, what's a Gleek to do? With only 5 of 22 episodes from Season 2 available online, it seems like your best option is to wait for the Glee Season 2 DVD and Blu-ray release, which will street on September 13th.
I know it's a while to wait, but those who are patient are likely to be happy with all of the extras coming with the Fox Home Entertainment set. Several featurettes will come with the episodes, including "Getting Waxed With Jane Lynch," "Stevie Nicks Goes Glee," "Shooting Glee in New York City," two segments about Brittany, and a portrayal of the Glee experience at Comic Con 2010. Other extras will include "The Making of The Rocky Horror Glee Show," "Santana's Slams," "Sue's Quips," an exclusive bonus song, a set-building extra, and the Glee Music Jukebox. Though it looks like Fox put a lot of attention into its special features, most of these are a rehashing of Glee: Season 2, Volume 1.
For those of you who are such Glee fans you jumped the gun and bought Glee: Season 2, Volume 1, you should be set to buy Volume 2 the same day the full season set hits the market. Although, there is no official release from Fox yet, Amazon (opens in new tab) has the title available for pre-order. A word regarding future purchases, though: the full season set only runs $60 bucks, and both of those half-ass "Volume" sets run $40. So unless you are popping in that Volume 1 disc twice a week to learn musical numbers, you are so wasting your money. Food for thought.
Your Daily Blend of Entertainment News
Your Daily Blend of Entertainment News
Thank you for signing up to CinemaBlend. You will receive a verification email shortly.
There was a problem. Please refresh the page and try again.