Glee's Trisha Rae Stahl Will Recur As Marley's Mom In Season 4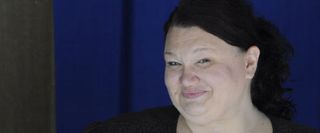 Glee's fourth season burst onto the scene last night with a premiere that showed us Rachel in college, asked us to question who the "new Rachel" would be, and introduced us to some new characters willing to try out for the New Directions club. One of these characters is Marley, a small town girl who, like Rachel, dreams of the big city. We also get to meet Marley's mother, a cafeteria lady who does the best she can to provide for her daughter. As it turns out, we will get to be seeing more of Marley's mom in upcoming episodes.
Trisha Rae Stahl, who plays Marley's mother in the season opener, has been signed on for a recurring role on Glee. We've already seen plenty of Marley's mother's sacrifices; she even sews designer labels into her daughter's clothing to make sure her kid will not be ridiculed for the family's poverty. Marley seems to want to make her dreams happen, but her mother does, too. Stahl will appear in next week's "Britney 2.0" episode.
THR reported the news after getting the opportunity to talk to Melissa Benoist, who plays Marley on the show. Benoist says her character's home life will be explored and also says that life is very much intertwined with her mother's.
Prior to her recurring gig on Glee, Stahl has appeared in ER and in the horror film Kiss The Abyss.
Your Daily Blend of Entertainment News