Glee Watch Season 5, Episode 16: Tested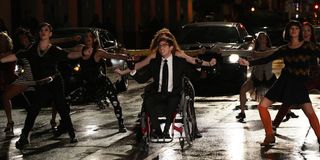 Gleeks, last night's Glee touched on several touchy subjects STDs, gaining weight and premarital sex. So how did our Gleeks handle it all? Let's recap, shall we?
S-E-X
Despite all of the sex education available out there, we learn one of our Gleeks isn't practicing safe love. (Hey Artie, commit this to memory: No glove, no love.)
After a couple of flings, Artie learns he has a sexually transmitted disease: the "clap." Artie learns the hard way, that free love isn't so free. And he ends up missing a chance to date a nice girl when she learns about his promiscuity. Ah, you live and you learn, Artie.
Mercedes and Sam
While Artie has been free-balling, Mercedes and Sam have been abstaining from doing the deed. After much spiritual contemplation, Mercedes decides to wait until she is married to have sex.
At first Sam balks, but then he realizes he can live without sex for a while, but he can't live without Mercedes. Aw. These two are quickly becoming my favorite couple of the show.
The Freshman 15
NYC's plethora of restaurants has Blaine on a food bender. Quickly the pounds pile on and before Blaine knows it, he's gained the infamous "Freshman 15." Blaine is embarrassed and it doesn't help that Kurt is now buff and popular.
Blaine - ashamed of his appearance - turns to an online website featuring buff frat boys. Kurt stumbles upon the webpage and is understandably hurt. Finally, after a tense "Love is a Battlefield" duet, the two air their dirty laundry and hurt feelings and decide to work it out, and by work it out I mean literally work out together. The two are drinking some yucky cleansing concoction. Cheers, fellas!
Favorite Song of the Night
Kurt and Blaine's "Love is a Battlefield" was my favorite song of the night. Amazing vocals as always with some tight choreography.
LOL Moments
There were several LOL moments. First, the opening scene with the guys portraying an old school '50s style STD PSA was too funny. Then Blaine chowing down on cheese curls and wiping the crumbs on his pants in shame. But the best was Sam - who can be a tad slutty himself - reacting to the news of Artie's STD. The slut-shaming was so over-the-top that it was funny. And then Artie's STD costume randomly popping up whenever Artie felt guilty.
Memorable Quotes
Kurt: "I said yeah, if we don't kill each other in combat class, count us in."
Kurt: "Oh look, it's someone's birthday! Clap clap clap clap clap!"
Blaine: "No Oscar is worth that."
Sam: "Slut. Slut shame."
Music featured
"Addicted to Love"
"Let's Wait a While"
"Love is a Battlefield"
Gleeks, next week Sue Sylvester is back and she wants to see Rachel Berry choke on opening night. Can't wait for some Sue zingers. See you next week!
Your Daily Blend of Entertainment News