Glee Watch: Season 5, Episode 3 - A Tribute To The Quarterback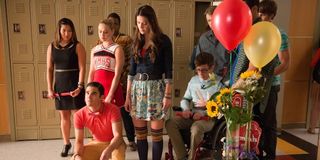 In last night's episode, the gang paid tribute to Finn (Cory Monteith). Grab some tissues because it was a tearjerker. Let's recap, shall we?
Finn Is Gone
We the viewers have known of Cory Monteith's passing for a while now. But last night's Cory Monteith Tribute Episode made it feel like the first time we heard the news. (In fact as I write this recap, I'm tearing up again.) Although Glee didn't give a reason why Finn passed away, in the end it really didn't matter.
The tribute was poignant and addressed beautifully the stages of grief that friends and family go through when a loved one passes.
This week's assignment was simply: Finn. And past and present New Directions members participated, with the exception of Quinn, Brittany and Sugar. (Am I missing anyone else?)
A Parent's Grief
No parent should ever have to bury a child. It is one of life's greatest tragedies. On a personal note, I saw my parents have to do it when they buried my sister so I can empathize with the scene where Finn's parents and his step-brother Kurt talk about how to go on. In that moment, you really don't know how you can.
Forms of Grief
When it comes down to it, there's no wrong or right way of dealing with grief. As Finn's death reverberates throughout the halls of McKinley High, Sue continues to act like a biotch, Tina acts self-absorbed about wearing black, Puck steals Finn's tribute tree, and Mr. Schue can't cry... until the end. Everyone copes differently, but like Coach Beiste points out to Puck, at some point you have to pull yourself together.
The Tribute Songs
I loved how the songs selected had a personal connection to Finn. From Mercedes to Trouty Pout to Puck, each song had me reaching for tissues. In particular, Rachel's "Make You Feel My Love" tugged at my heartstrings, but it was Santana's "If I Die Young" that made me lose it. And then when the usually stoic and bitchy Santana broke down, my tears just flowed.
The Jacket
Everyone assumed Puck took Finn's jacket. Honestly I was expecting Becky Jackson to pop up and say she took the jacket. However it turned out that it was Mr. Schue. And again I couldn't help but well up again when Mr. Schue sobbed while holding the jacket.
LOL Moments
Somehow through all the tears, Glee managed to make me laugh this episode when Rachel revealed her tribute plaque to Finn that had the quote, "The show must go on...all over the place...or something."
Memorable Quotes
Santana: "Okay, I know that Finn had his doubts about God, but I am convinced that Squishyteets is up in Heaven right now, plopped down next to his new best friend Fat Elvis, helping themselves to a picnic of baby back ribs smothered in butterscotch pudding and tater tot grease. So, this is for you, Hudson."
Rachel: "I had it all planned out. I was gonna make it big on Broadway and maybe make a Woody Allen movie. And then when we were ready, I would just, come back and he'd be teaching here and I'd walk through those doors and I would just say 'I'm home' and then we would live happily ever after."
Sue: "I was horrible to that kid. And I'm utterly destroyed that he died thinking I didn't like him."
Coach Beiste: "He's dead. And all we've got left is his voice in our head. I'm sorry, but it's time. You've gotta be your own quarterback."
Music featured
"Fire and Rain"
"No Surrender"
"Seasons of Love"
"I'll Stand By You"
"Make You Feel My Love"
Well Gleeks, we're getting a breather after that heart breaker of an episode. Glee returns Nov. 7. See you then!