New Gotham Photos Tease Violence, A Funeral And A Little Bit Of Gotham City Glamour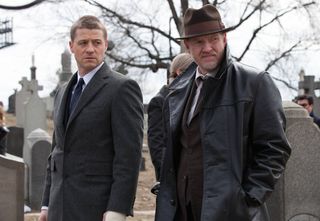 Fox gave us an early look at their planned Gotham City origin story Gotham earlier this month. The network presented the same trailer at today's Upfront, so we don't have any new video content from the Batman prequel series, but the network did release some new photos, including the above episode still, which appears to be at a cemetery (the Wayne funeral perhaps?), and this one that shows Ben McKenzie's James Gordon getting rough with Oswald Cobblepot...
And in this one, we get a little bit of Gotham City glamour from Jada Pinkett Smith's Fish Mooney, who appears to be a chess fan...
We also have this great promotional photo of the main cast...
Bruno Heller wrote the pilot for Gotham, while Danny Cannon directed. Here's part of Fox's official synopsis for the series.
In addition to Ben McKenzie, the cast also includes Donal Logue (playing Harvey Bullock), Jada Pinkett Smith (Fish Mooney), Sean Pertwee (Alfred), Robin Lord Taylor (Oswald Cobblepot aka The Penguin), Erin Richards (Barbara Kean), David Mazouz (Bruce Wayne), Camren Bicondova (Selina Kyle, the future Catwoman) and Zabryna Guevara (Captain Sarah Essen). Catch a glimpse of their characters in the gallery below!
Fox has Gotham set to air on Monday night at 8:00 p.m. ahead of returning drama Sleepy Hollow. Check out the full Fox 2014-2015 lineup here.
Image 1 of 16