Grey's Anatomy Core Cast Renew Contracts: Season 9 Seems Secure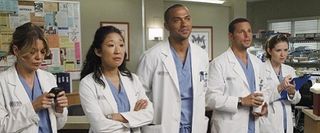 It's two more years of Grey's Anatomy for stars Sandra Oh, Patrick Dempsey, Ellen Pompeo and Justin Chambers. That pretty much tells us we can expect Season 9 and a pretty good sign for 10, in spite of the fact that the series has yet to be officially renewed. All four stars have finalized deals to renew their contracts through 2014.
In addition to the four original cast members, James Pickens, Jr. and Chandra Wilson have also renewed for two years, says Deadline. The fate of the show has been questionable as fans waited to hear if some or all of the stars whose contracts were expiring would decide to stay on. For longtime viewers, the loss of any of the core cast would have been hard to take, but today Grey's fans can celebrate. They're all on board for another two years of drama at Seattle Grace.
Back in early January, word was that the show was likely to return, although no one was yet certain who would still be starring. Season 8 had been given a possible ending as a series finale just in case. With the future of the original cast now secured, it seems likely we'll get the renewal news in the very near future. The renewal for two years on the stars contracts could even point to a two-year renewal on the series, but we'll have to wait and see. Meanwhile, it's pretty safe to say fans can look forward to Season 9 appearing right on schedule in the fall, and starring all of the familiar faces you're used to seeing on Grey's .
UPDATE: Grey's Anatomy has reportedly been renewed!
Your Daily Blend of Entertainment News
Thank you for signing up to CinemaBlend. You will receive a verification email shortly.
There was a problem. Please refresh the page and try again.