Grey's Anatomy's Isaiah Washington Joins CW's The Hundred Pilot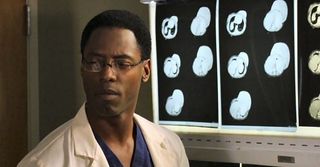 The CW's post-apocalyptic pilot The Hundred has added to the cast. Grey's Anatomy's Isaiah Washington has come on board in a co-starring role alongside Henry Ian Cusick (Lost).
Washington will play the role of Chancellor Jaha, says Deadline, who is the leader of what remains of the human race. Now living on a space station orbiting the earth, the survivors of the apocalypse send down a group of one hundred people – juvenile delinquents – to investigate the possibility of repopulating the planet. The project is based on the book The 100 by Kass Morgan, and is one of several high-concept dramas that the CW has on tap this pilot season including another futuristic story based on a book, The Selection.
Isaiah Washington is probably best known to TV viewers for his time spent on Grey's Anatomy, but he has had a long career in TV and films. Recently he appeared in the indie film Blue Caprice, which was just picked up by Sundance Selects, and he has several fims coming out including The Trials of Cate McCall with Kate Beckinsale and Nick Nolte. He's also guested on Law & Order: LA and Single Ladies in recent years.
The Hundred is being directed by Bharat Nalluri (Emily Owens, M.D.) and has a few of the other cast members in place already as well. In addition to Cusick, Washington will join Marie Avgeropoulos (Cult), Eli Goree (Emily Owens, M.D) and Australian actors Eliza Taylor and Bob Morley (who worked together on the series Neighbours down under). We'll forgive The Hundred in advance for having several people involved in this fall's CW medical flop, Owens; this project already sounds more promising.
Your Daily Blend of Entertainment News
Thank you for signing up to CinemaBlend. You will receive a verification email shortly.
There was a problem. Please refresh the page and try again.