HBO Signs Up Another Season With The Ricky Gervais Show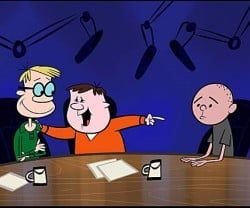 I never caught The Ricky Gervais Show when it was online as a podcast, but now I wish I had. HBO's iteration of it, which is really just Flash-style animation of the guys in the studio with the occasional animated exposition, is genuinely laugh-out loud funny. HBO is pleased as well with the show enough to bring it back for a second season.
The Ricky Gervais Show isn't necessarily cleaning it up in the ratings department, but I'd imagine it's fairly cheap to produce. The audio tracks have already been laid down so you just need some cheap animation and someone to slap it all together. According to The Hollywood Reporter, the average episode is pulling in a paltry 0.1 rating in the coveted 18-49 demographic, with only 180,000 total viewers. That's deplorable by anyone's standards.
It could be an attempt to keep a healthy relationship with Ricky Gervais, so they're in line for whatever his next TV project is, or it could just be the nework's way of saying they're ready to look beyond the bottom line sometimes and stand by something of quality. Fans are more comfortable with a network that shows some faith in their product; especially with how trigger-happy the broadcast networks have been known to be.
And did we mention how incredibly cheap it is to produce? That certainly can't hurt.
Your Daily Blend of Entertainment News
Your Daily Blend of Entertainment News
Thank you for signing up to CinemaBlend. You will receive a verification email shortly.
There was a problem. Please refresh the page and try again.