Johnny Depp Confronts Ricky Gervais About The Golden Globes On Life's Too Short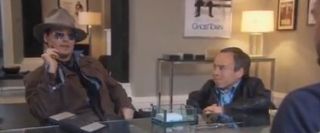 Who needs American television when Ricky Gervais and Steven Merchant continue to do great work for the BBC? And this side of the pond eventually gets the series too, just a little while after they make their splash in the UK. Also, we usually get an American remake, so you could just sit around and wait for that and avoid the annoying British accents and ultra-dry and often cringeworthy (brilliant) comedy. Yes, I'm being sarcastic. Anyway, I wouldn't hold my breath for an American remake of their newest BBC2 series, Life's Too Short.
In the same vein as Extras, Gervais and Merchant are interested in exploring a slightly fictionalized version of the entertainment industry in order to, well, mostly to take the piss (and allow actors to take the piss out of themselves). It's all in good fun and sometimes, as in the case of Kate Winslet, a guest appearance on a Gervais/Merchant program can even land you an Emmy nomination.
For those unaware, Life's Too Short follows the exploits of a slightly fictionalized Warwick Davis (as are all the celebs in their shows; I especially love the way Ben Stiller plays Ben Stiller), a working little person struggling to get by in the entertainment industry. Oh, back to awards shows: this clip from the upcoming BBC2 series has Johnny Depp accompany Davis to the offices of Gervais and Merchant, where the topic of the Golden Globes is awkwardly addressed. "No one makes fun of Tim Allen on my watch, and gets away with it."
Watch. Cringe. Laugh. Then enjoy the photo of Depp and Gervais shoving Davis into a toilet.
Life's Too Short debuts on November 10th on BBC2, and then on HBO in February 2012. You can also catch the third season of The Ricky Gervais Show on HBO early next year, as they are just wrapping up the final podcasts and ensuing animation.
Your Daily Blend of Entertainment News
Thank you for signing up to CinemaBlend. You will receive a verification email shortly.
There was a problem. Please refresh the page and try again.