Hannibal's Horrifying Face-Off And A Look At The Last Supper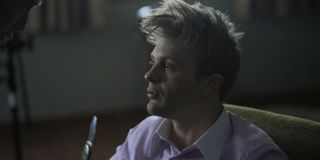 Well, that was probably the most messed up thing I've ever seen on a network TV show. Having been a fan of Thomas Harris before Bryan Fuller's Hannibal, I was well aware of where the Mason Verger storyline was headed and yet the series still managed to shock me. I couldn't believe what I was seeing (between my fingers) or hearing (between my shouts of disgust).
Oh, and that is all meant to be complimentary, by the way. Most of the series' violence so far has looked, for lack of a better word, beautiful, but this time Fuller - with co-writers Chris Brancato and Scott Nimerfro and director Michael Rhymer - decided against painting a pretty picture. This time the horror was truly horrifying. And it was on NBC. Unbelievable. Thank God (or the Devil) we're getting a third season, cause Hannibal continues to be the best drama on TV.
I was planning to include a screenshot of Michael Pitt's character in the middle of slicing off his own face (as well as one of Will's dogs eating the scraps) but I wanted you to be able to, you know, actually look at this post without feeling ill. For those who want a better look at Mason's handiwork, Bryan Fuller tweeted a fully-lit photo of it during last night's broadcast. However, I will include this shot that shows the villain's odd look after the incident. The design is almost too perfect.
I don't think I'll be the only one who is sad to see Michael Pitt (and Katharine Isabelle as his sister Margot) leave the series since the late-season arc was so satisfying, but at least he should be able to use the guest spot as a segue into being the Joker in the new Batman films. Or, worst-case scenario, on Fox's Gotham. Besides, if all goes according to plan, this won't be the last we hear of Mason Verger. Pitt should be back in a few seasons to try and pay Dr. Lecter back.
Now. If that was the second season's penultimate episode, what could Hannibal possibly have in store for us with the finale? Here's a look at what's being billed as "The Last Supper"...
Hannibal returns with the second season finale, "Mizumono," next Friday at 10:00 p.m. ET on NBC. Created by Bryan Fuller (and based on the novel Red Dragon by Thomas Harris), the series stars Hugh Dancy, Mads Mikkelsen, Caroline Dhavernas and Laurence Fishburne.
Your Daily Blend of Entertainment News
Thank you for signing up to CinemaBlend. You will receive a verification email shortly.
There was a problem. Please refresh the page and try again.