Hawaii Five-0 Lands Screen Legend Peter Fonda For A Guest Role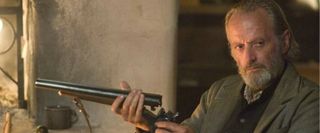 When a series graduates from its freshman year into being a sophomore, there's a sense that the first major hurdle, certainly the most difficult one to jump, has been cleared... and now the fun begins. CBS' Hawaii Five-0 was one of those fortunate shows to get a second season order, and deservedly so since it was one of the more entertaining and well cast 'new' police procedurals. And with a second season, comes a little more clout when lining up your guest stars.
The Alex Kurtzman and Roberto Orci version of the 1980s series of the same name shrugged off the negative connotations that come with the terms reboot or re-imagining by delivering a solid hour (42 minutes) of entertainment each week and even nabbed Scott Caan a much deserved best supporting actor nomination at the Emmys. We've already discusses several of the big names (and small ones) that the show has managed to line up for its second season including recurring roles for Terry O'Quinn, Booker T. Jones, Laura German as well as guest arcs for William Baldwin and Tom Sizemore.
The newest guest spot has just been announced as TVGuide reports that, "Hawaii Five-0 is getting a visit from an Easy Rider. Peter Fonda, star of the 1969 counterculture classic, will appear on the CBS procedural this October as a salty treasure-hunting sea captain." Fonda is, of course, Hollywood royalty and I love seeing him pop up in random things (like his great turn in James Mangold's 3:10 to Yuma). This is truly a great catch for the series and one that will have tuning in for sure,
Hawaii Five-0 stars Alex O'Loughlin, Scott Caan, Daniel Dae Kim and Grace Park with Season 2 premiering Monday, September 19 at 10 p.m.
Your Daily Blend of Entertainment News