Hawaii Five-0 Watch: Ho'apono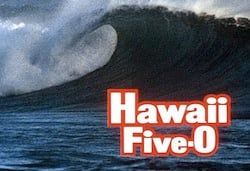 I want to start this recap in the same way that tonight's episode of Hawaii Five-0 started out: a shout out to the original Dano, James MacArthur, who died at the age of 72 last week. My thoughts and prayers are with his family in this difficult time.
What has made Hawaii Five-0 effective is its portrayal of justice. The kind of Jack Bauer justice that people feel should be exacted every day; but can't be, due to several issues both political and moral - don't worry, I know its' election day, but I'll keep politics out of it. Regardless, I got the feeling that only partial justice was doled out into tonight's episode, a feeling almost as unsatisfying as no justice at all.
The episode starts out with a brutal murder and then a chase scene, in which the suspected murdered (the husband of the victim) gets aboard the U.S.S Missouri, a retired ship that rests at Pearl Harbor. He ends up taking seven hostages from a tour that was being led by a WWII veteran and most of the episode takes place on the ship with McGarrett trying to talk him out of doing something he'll regret. You know, like killing everyone on board. So yeah, it's pretty much the plot of The Negotiator (you know, with Denzel Washington and Kevin Spacey) with the overlay of Hawaii Five-0 chilling out on top of it.
It's also a pretty basic cop drama plot, but with better execution. We all know this show isn't going to win any Emmys for writing, but it certainly has great characters to work with. Spark and pizazz emanates from these characters bodies, giving the feeling that these are, you know, real people. That's something you can't say about many cop dramas, in which all of the protagonists are either comic relief or icy cold. That's something the writers (Orci and Kurtzman) have a knack for. Yeah, they write some pretty dull scripts at times (see Transfomers 2: Revenge of the Fallen), but their characters are always very human, which I admire.
It turns out that the hostage taker, a former navy seal, is suffering from Post-Traumatic-Stress-Disorder. It also turns out that his wife, who (spoiler alert) he didn't kill, ran away from her abusive Russian husband (yeah, bring in the White baddies!) with their newborn daughter. Well, turns out that the Ruskie is back for vengeance, and he extracts it on his ex-wife and kidnaps his daughter right from under the nose of Kona. This should come as no surprise to those of you who watched last week's episode and now associate Kona (and Grace Park) with being a little useless when it comes to fulfilling their job requirements.
As drama both on and off the ship began to escalate, it became obvious that while this guy may be innocent, he's a total dick. Yeah, I know he has PTSD, but he also stopped taking his pills because he "thought he could take it." Well, news flash, he couldn't. And I can not imagine putting that little girl in the custody of a man that can't seem to control himself or his behaviors. In this way, I question the true amount of justice that was dolled out in this episode. We don't know what happened to him next, but I can bet you that all that is in store for him is a brief stay in a vet hospital before he's back at home doing God knows what to his daughter. Either way, a tightly directed episode of Hawaii Five-0 was a great way to cap an already awesome day - thanks to my San Francisco Giants winning the World Series. I said I'd keep politics out of it, not sports.
Your Daily Blend of Entertainment News