New Hell On Wheels Trailer And Character Photos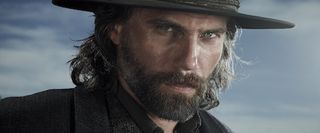 AMC isn't being shy about their upcoming new series Hell on Wheels. With Breaking Bad wrapped up for another season, The Walking Dead and Hell on Wheels are two big reasons to keep AMC on the radar in the coming months. The network released a new trailer for the western drama, plus we have some excellent character photos to share with you.
Hell on Wheels premieres Sunday, November 6th at 10/9c on AMC. The series follows former Confederate soldier Cullen Bohannon (Anson Mount), a man on a mission for vengeance who ends up crossing paths with the Union Pacific Railroad's western construction. The cast also includes Common, Dominique McElligott, Colm Meaney, Phil Burke, and Eddie Spears. Below is the new trailer, and further down is the gallery of character photos.
Image 1 of 9
Image 2 of 9
Image 3 of 9
Image 4 of 9
Image 5 of 9
Image 6 of 9
Image 7 of 9
Image 8 of 9
Image 9 of 9
Your Daily Blend of Entertainment News
Thank you for signing up to CinemaBlend. You will receive a verification email shortly.
There was a problem. Please refresh the page and try again.