Homeland Preview: Season 1, Episode 3 - Clean Skin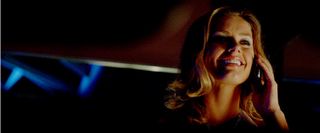 Showtime's new thriller Homeland has to be in contention for the best new show this fall. A slow burning and smart 24 with absolutely captivating leads in Claire Danes and Damian Lewis, it creates an almost constant feeling of unease, keeping you on edge as the drama unfolds. The final line from last week's episode seems innocent enough yet, because of the proper build-up and ambiguous delivery, "He's out there, playing the hero card," has me hooked and itching for more.
Danes plays CIA Analyst and psychologically unstable Carrie Mathison who suspects Lewis' returning hero Marine Sergeant Nicholas Brody to be a sleeper terrorist.
Meet the Characters: Carrie Mathison
Meet the Characters: Nicholas Brody
The pilot was exceptional in setting up the story and introducing the characters without feeling exposition heavy. The second episode followed suit, introducing the audience to a few new players and opening up the world just a little while also maintaining some level of suspense. The central question, has Brody been turned, is never far from your mind.
Showtime has released a couple clips from this Sunday's episode called "Clean Skin" and they look as intense as ever. In the first, we see Brody being interviewed (you know, out there playing the hero card) while also experiencing those telling (?) and visceral flashbacks. In the second clip, Carrie's asset Lynne has to go on a surprise meet-up with only Carrie and Virgil for back-up. She'll be okay, right?
As I said in my recap of the second episode, the show is very smart in that it puts the pieces in place and lets the tension build. There aren't always a lot of moves, instead the we're left to stew in new bits of information and then come up with our own conclusions. What is real and what is a just a figment of either of their tortured minds? Try and pick up the pieces. Homeland airs on Showtime, Sundays at 10 p.m. ET/PT.
Your Daily Blend of Entertainment News
Thank you for signing up to CinemaBlend. You will receive a verification email shortly.
There was a problem. Please refresh the page and try again.