Homeland Preview: Season 1, Episode 4 - Semper I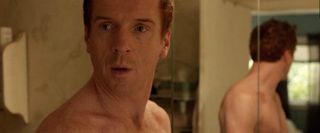 Homeland is a fantastic new show. Probably the most engaging and intense debut in some time because, with only an eight episode first series, there simply isn't anytime to waste finding its footing or straying too far from the central narrative. Everything is tightly wrapped and written. Every word and gesture has a purpose, making the audience have to be as attentive as the lead CIA Analyst. Basically, you should be watching.
The series has smartly released a video called, "Homeland Season 1 : Look Ahead," which not only does a great job teasing the already faithful viewers (like, really teases because there are moments in the video that have me absolutely floored) but it spends a bit of time looking back at the major events of the first few shows in order to bring some new viewers into the fold.
After seeing the huge premiere numbers for the far inferior - like, really, really inferior - The Walking Dead it saddens me to know that people are watching that laughable drama over what is an actually intellectually stimulating and demanding program. Watch the recap/preview and tell me that doesn't get your interest piqued?
Homeland Season 1 : Look Ahead
On top of that great video, Showtime has also released two clips from this upcoming Sunday's episode called "Semper I" (a play on the Marine motto 'Semper Fidelis' or just 'Semper Fi' which translates to always faithful). In the first clip, it looks like Carrie is back to watching Brody like a hawk as he preps for more public appearances. Smile for the camera...
In the second, we have Carrie briefing the CIA roundtable on the latest developments regarding Abu-Nazir case and a laundry mat suspected of transferring the terrorist cash (from the necklace). She gets approval from Estes - thanks to Saul's backup - to follow the patrons of the launderer, one of whom happens to be the new close-to-the-airport-home-owner from last week.
Homeland airs on ShowTime, Sundays at 10 p.m. ET/PT. It stars Claire Danes, Damian Lewis, Mandy Patinkin and Morena Baccarin. It was developed by Howard Gordon and Alex Gansa.
Your Daily Blend of Entertainment News
Thank you for signing up to CinemaBlend. You will receive a verification email shortly.
There was a problem. Please refresh the page and try again.