Homeland Preview: Season 1, Episode 6 - The Good Soldier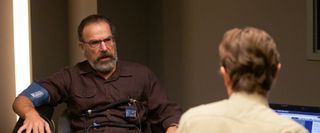 Showtime's Homeland is heading into the back half of the season. In last night's thrilling episode, "Blind Spot," a large portion of the show was devoted to the capture and interrogation of one of Brody's former torturers but this week, it looks like the tables will be turned. As you can see from the image, "The Good Soldier" will find everyone under the microscope - or more accurately, the polygraph - including Saul, Carrie and most importantly, Brody.
The picture and the trailer (below) aren't quite as intriguing once you read the episode's official synopsis (via Showtime's website (opens in new tab)); "Reeling after losing key players in Nazir's plot against America, the CIA orders polygraphs on everyone who came in contact with them, including Brody, which Carrie sees as an opportunity to finally learn the truth." So that means that all of the people involved in the case are being questioned, Saul or Brody weren't specifically targeting, which might have been a little more exciting. However, they are still going to be strapped in and we'll get to see them all sweat.
The clips from "The Good Soldier" show what seem to be a quieter side of the episode, first with Saul and Carrie discussing the incredible opportunity that has fallen into their laps as well as mending their always tumultuous relationship. Those who caught the show last night know that these two had it out rather fiercely and Carrie left shouting something about quitting (I believe it was "fuck this shit"), which is why Saul is prodding her about her resignation. Carrie's not going anywhere, not with the chance to finally make Brody squirm. That leads to the second clip which takes place at Brody's partner, Tom Walker's funeral where he has to deliver a eulogy, all while having some troublesome flashbacks of beating the man to death. Enjoy!
Oh, and those in the right region can watch the intense trailer (also via Showtime's website (opens in new tab), where you might have more luck if not in the right region). You get to see Brody strapped in and the pressure building as it looks like he might be doing a little better on the test than Carrie hoped.
Homeland airs on Showtime, Sundays at 10 p.m. ET/PT. It stars Claire Danes, Damian Lewis, Mandy Patinkin and Morena Baccarin.
Your Daily Blend of Entertainment News
Thank you for signing up to CinemaBlend. You will receive a verification email shortly.
There was a problem. Please refresh the page and try again.