How Did TBS Get Conan? They Sweetened The Deal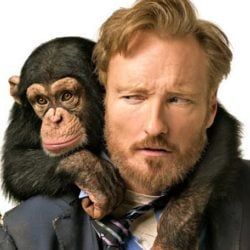 Trust us, you weren't the only one shocked to hear earlier today that Conan O'Brien had agreed to do a new show on TBS, taking the 11 p.m. time slot currently held by George Lopez. Pretty much everyone, including TBS, had assumed until a few weeks ago that Fox would be the ones to nab the deposed Tonight Show host-- to the point that, as The LA Times reports, TBS said they weren't even interested in bringing him on because they assumed Fox had a deal in place.
The Wrap has their own behind-the-scenes look at the deal, explaining that as Fox dragged their heels and tried to convince their affiliates to ditch reruns in favor of Coco, TBS stepped in with a charm offensive that eventually got Team Conan on board. "We'll be a big deal at TBS. I don't know that we would've been a big deal at Fox," an anonymous Team Coco source told The Wrap.
A major element of the sweet deal offered by TBS is that Conan will retain ownership of the show, promising much more money on his end as well as the rights to any characters he creates, so that if there's an NBC-level fallout in the future, he won't lose access to whatever the new version of the Masturbating Bear will be. It's fair to guess that TBS offered Conan pretty much whatever he was asking-- rumor has it at Deadline that the five-year deal includes $10 million upfront.
While it is a little surprising to see someone go from hosting the The Tonight Show to headlining a cable network in less than a year, that's really only if you look at it through the glasses of old media. Many of the best and most-discussed shows on television -- Mad Men, Breaking Bad, The Wire, Damages-- are airing on cable or premium channels, and while Stephen Colbert and Jon Stewart may not bring the same amount of eyeballs as Leno and Letterman do on the networks, their opinions matter far more.
There will be a lot of speculation about what the new Conan O'Brien show will bring, a lot of it because NBC owns much of his previous content and we really have no idea what he might do next. But it's a fun future show to contemplate, one that will likely embrace new media and its underdog status, one that will have nothing to lose, one that could easily prove to NBC once and for all that, by opting for safe dinosaur Leno rather than the hipper and riskier Conan, they bet on the side of the past and they lost.
Your Daily Blend of Entertainment News
Staff Writer at CinemaBlend