How I Met Your Mother Preview: Season 6 Premiere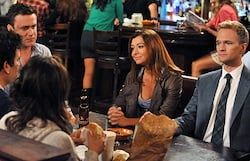 It's kind of hard to believe that How I Met Your Mother is set to start its sixth season. Time sure does fly! Will this be the season of "the mother"? Read on for more details about the premiere and a clip from the episode.
Maybe I'm in the minority here but I'm less concerned about the big "mother" reveal as I am with the show remaining funny and worth watching every week.
How I Met Your Mother Season 6 premieres on Monday, September 20 at 8:00 p.m. ET on CBS.
CLICK HERE to view the 2010 Fall TV Premiere Schedule.
Your Daily Blend of Entertainment News
Thank you for signing up to CinemaBlend. You will receive a verification email shortly.
There was a problem. Please refresh the page and try again.