How I Met Your Mother Renewed For Season 9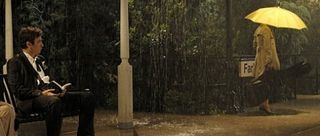 It was close, but the word is official: How I Met Your Mother will be back for a ninth season. There's been plenty of talk that the long-running comedy would be wrapping things up at the end of this season, but CBS has locked in the cast for at least one more season beyond the current one. Does that mean we aren't going to meet the mother in Season 8?
Deadline noted today that it was the deal for Jason Segel (Marshall) to return that brought HIMYM to an eleventh hour decision. Although it looked like he would be leaving, it seems negotiations were successfu. The rest of the cast - Neil Patrick Harris, Josh Radnor, Cobie Smulders, and Alyson Hannigan – have also signed on to stay. The network needed to make the decision as soon as possible so that they could work on wrapping things up in the second half of the season should negotiations have gone south.
So what does this mean for the big reveal that has been the point of the show (allegedly) since day one? Will we, or will we not meet the mysterious mother? Had the negotiations failed and Season 8 been officially set as the last, that yellow umbrella would have finally revealed its owner this season. Now, however, it's anyone's guess what the writers will do. I think there's plenty of room for the show to do another season even after the big reveal, and certainly fans of the show have been waiting long enough. I suspect, however, that this renewal means we'll have to keep waiting for the mother to make her appearance.
Your Daily Blend of Entertainment News
Thank you for signing up to CinemaBlend. You will receive a verification email shortly.
There was a problem. Please refresh the page and try again.