Hunted's Adam Rayner Cast In The Saint Project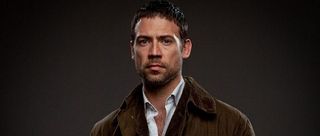 The latest attempt at remaking the classic British series The Saint may not yet have a network attached, but it does have a star. Hunted's Adam Rayner has been tapped to play the role that has already been handled by Roger Moore in the original and by Val Kilmer in the big-screen version.
The Saint is the story of Simon Templar, something of a modern-day Robin Hood who steals from rich bad guys, although he has a tendency to keep his loot rather than giving it to the poor. He's a master of disguise and uses the names of various Catholic saints in his fake identities, hence his nickname. He's also a gifted spy and thief, which earns him the opportunity to handle specially contracted government assignments. A perfect gentleman-- 007 himself – handled the role for the original British series, and the casting of Adam Rayner holds to the description of Templar as the perfectly finessed British character.
Rayner most recently starred in the new Cinemax and BBC combined effort Hunted, opposite Melissa George. Before that he appeared on the short-lived series, Dragon Age: Redemption, as well as did a stint on the Jada Pinkett-Smith medical drama Hawthorne.
This is the second attempt to bring The Saint back to television; in 2008 Moore himself was involved in the project as a producer with James Purefoy set to star. Unfortunately, the project didn't go anywhere in the end. This version is set to begin filming on a pilot this month, which Deadline says will then be shopped around to the networks.
Your Daily Blend of Entertainment News