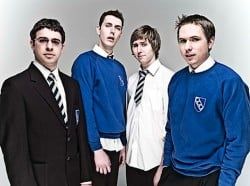 While ABC Studios works with creators Iain Morris and Damon Beesley on a US version, BBC America is going ahead with their premiere of the original UK iteration of The Inbetweeners. The show premieres tonight and will run the first two series back-to-back over the next twelve weeks. BBC America sent along the first six for us to take a look at.
The first thing to understand is that the cuts I saw were the UK cut, which means the American Television Sanitation Police hadn't yet gotten their hands on it. It has a lot of crude language, sexual content and a rather lengthy sequence prominently featuring Blake Harrison's ass.
That said, I found The Inbetweeners to be incredibly entertaining. It is also very British, in that the slang, language and humor are very different to what is traditionally seen on American sitcoms. Furthermore, the kids are only two years away from the legal drinking age, and can even have alcohol at school sponsored events under adult supervision, so that's something for American teens to be jealous of. The show has mastered the "uncomfortable," as made famous on both versions of The Office, with most of the interactions between the four main characters and anyone else.
Inevitable comparisons will be made as well to the UK teen hit Skins, as both focus on young people trying to get their shit together. The main difference between the two, other than the tone of their respective series, is that Skins focuses on a variety of kids with differing social statuses, while The Inbetweeners seems to spotlight the dorks. And while sex is certainly on the minds of the kids of The Inbetweeners, they're certainly not as adept at it, nor are they getting nearly as much of it, as their Skins counterparts.
Like sitcoms of yore, each episode of The Inbetweeners is framed in such a way that it stands completely on its own, while still maintaining a narrative growth for the characters and their adventures through sixth form (a voluntary level of school for sixteen and seventeen year olds in some British schools).
We're also treated to a first-person narrative from Will McKenzie (Simon Bird). The series opens with him the newcomer at school. In an attempt to raise his social status, he forges a kinship with Simon Cooper (Joe Thomas), which inevitably includes Simon's two buffoonish buds Jay Cartwright (James Buckley) and Neil Sutherland (Blake Harrison). Jay is the typical self-centered, lying, egotistical douchebag, while Neil is more of the happy-go-lucky simpleton.
Will's awkwardness, as portrayed by Bird, is a thing of impressive genius, complemented brilliantly by his voiceover work. He's almost relatable as a regular guy, until you see the way he responds to certain situations, like a girl revealing that she's completely willing to have sex with him. But he's sweet and sincere, if incredibly socially awkward.
Simon's a good enough looking guy, but he's completely hung up on the girl next door, who may or may not be interested. The problem for him is that she has a boyfriend, and he's massive. Throughout the six episodes I saw, love and sex were never far from these teen boys' minds -- which seems appropriate -- but they still managed to get themselves into all kinds of funny situations.
A particularly surreal situation saw the four of them walking through an amusement park. Simon was carrying the passenger side door to his car, which Jay had busted because he couldn't wait for Simon to finish parking the car, while Neil was walking around in a pair of red speedos. As for Will, he wasn't dressed weird, or carrying anything weird, but he got into enough trouble with his mouth. For a soft-spoken and "polite" young man, when Will snaps, he says some of the most shockingly awful things.
Simon Bird won the BAFTA for "Best Male Comedy Newcomer" for his portrayal of Will, while The Inbetweeners took it for "Best New TV Comedy" in 2008. Ratings were solid on E4 for the first season, but by the second season, The Inbetweeners was regularly drawing top-ratings for the network. It's been commissioned for a third series in the UK, to begin airing in 2010.
The Inbetweeners premieres tonight, Monday, January 25, 2010 at 9 PM ET on BBC America with back-to-back installments, before settling into its regular Mondays at 8:30 PM ET time slot.
Your Daily Blend of Entertainment News