It's Always Sunny's Mary Elizabeth Ellis Joins Greg Garcia's CBS Comedy Pilot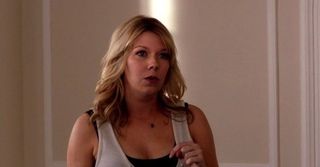 CBS still doesn't have a title for the Greg Garcia comedy pilot starring Will Arnett, but it has at least found a co-star. It's Always Sunny in Philadelphia's Mary Elizabeth Ellis has signed on to play Arnett's sister for the project. That will bring the two back together after Ellis' guest spot on Up All Night.
The Greg Garcia comedy of no name (although it's being called the Unauthorized Greg Garcia Project apparently) focuses on Jack (Arnett), a recently divorced man who finds his life complicated by his parents decision to move in with him. THR says Ellis will be taking on the role of Jack's sister Debbie. She's married to a mattress salesman with whom she has two kids, and the family's money struggles always seem to wind up on Jack's doorstep.
Mary Elizabeth Ellis' TV credits, in addition to It's Always Sunny, include an arc on New Girl and a guest appearance on Happy Endings. She also had a lead role in the short-lived Perfect Couples. She will next appear on the big screen in the romantic comedy The Truth About Lies.
The multi-camera pilot is one of two Greg Garcia comedy projects Garcia has at CBS this season, the other being Super Clyde with Harry Potter franchise star Rupert Grint. Garcia writes and executive produces for this one, and Mike & Molly director James Burrows is on board to direct. Also cast for the project so far are Margo Martindale (A Gifted Man) and J.B. Smoove (Curb Your Enthusiasm).
Your Daily Blend of Entertainment News