Jake And The Never Land Pirates Will Meet Peter Pan In February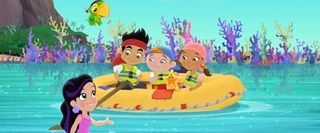 Though written specifically for preschoolers, Jake and the Never Land Pirates is part of what many people would consider to be Disney's Peter Pan franchise -- Never Land is key to the plot, and Captain Hook and Mr. Smee make for quite delicious villains, even for a daytime Disney animated program. The first season of Jake and the Never Land Pirates was full of shenanigans, with one problem: the devious and adventurous Peter Pan himself never made an appearance.
In Season 2, which premieres in 2012, Disney plans to rectify the situation. In a special episode set for February 13th, Peter Pan will make an appearance in Never Land in order to find his lost shadow. The episode won't focus solely on Peter Pan -- he will need the help of the whole gang to retrieve said shadow, which is great because teamwork is key for that preschool demographic. You can tell Disney is really promoting the special episode, because it will air during primetime at 7 p.m. ET on the 13th. "Peter Pan Returns" will also feature six brand new original songs for your two- to seven-year-olds to go gaga over.
Adam Wylie, who voices Pierce on Ben 10: Alien Force, is set to voice Peter Pan. You can check out Disney's full press release for the special event over at TV By The Numbers.
Meanwhile, Season 2 of Jake and the Never Land Pirates will officially debut at 8:30 a.m. on February 20th over at The Disney Channel.
Your Daily Blend of Entertainment News
Thank you for signing up to CinemaBlend. You will receive a verification email shortly.
There was a problem. Please refresh the page and try again.