James Spader In Talks To Become New Dunder Mifflin CEO On The Office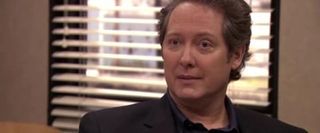 The Office wound up its recent season with the departure of Steve Carell's Michael Scott and a parade of celebrity guest stars as his potential replacements, including Will Ferrell, Ray Romano, and Will Arnett. Now it seems there are big things in store for the character played by James Spader, the hilariously arrogant "Robert California." EW reports that Spader is in talks to join The Office next fall, but not as the new head of the Scranton branch. Instead, Spader's character would take over as the new CEO of Dunder Mifflin, replacing Kathy Bates' feisty Jo Bennett. It's an unexpected move, but one that makes sense since Bates will have her hands full with the second season of Harry's Law.
EW explains that Spader's role will actually begin as the manager of the Scranton branch, but would quickly expand into the CEO role once California decides the manager position is too limited for a man of his talents and manipulates his way into the top office. Spader's role as CEO would also be larger than Bates' was, with him showing up more frequently to interact with the Office dwellers in Scranton. All of this, of course, depends on Spader signing on the dotted line, and at this point negotiations are just beginning.
Of course, with Spader's Robert California stepping up to CEO, we still don't know who will be the new Scranton branch manager.
If you missed the finale and want an idea of the character Spader is playing, check out the clip below, from his first interview at Dunder Mifflin for the job.
Bringing Spader on to replace Jo, not Michael, might be the best of both worlds, allowing a major star to have a role on the show, but still leaving room for someone else employed in Scanton to take the top job
Staff Writer at CinemaBlend
Your Daily Blend of Entertainment News
Thank you for signing up to CinemaBlend. You will receive a verification email shortly.
There was a problem. Please refresh the page and try again.