Jamie Foxx's Buddy Cop Drama In Development At TNT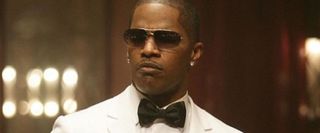 TNT has a new drama in development that comes from Jamie Foxx and former Numb3rs executive producer Robert Port. Hit is a buddy cop drama about two former football stars and close friends who, years later, find themselves tracking down bad guys for the Miami Police.
The idea is credited to Jamie Foxx, according to Deadline, and he will executive produce along with his producing partner Jaime King as well as Port. The two main characters will be high school buddies who played football together, one as quarterback, the other a wide receiver. They later are both brought on to the Miami Police Department's H.I.T. squad, which stands for High Impact Team, where they will pit themselves against Miami's most dangerous baddies.
Jamie Foxx's career was kicked off in television, back in the In Living Color days and he had his own series for a while as well, but he has been doing mostly films since wrapping The Jamie Foxx Show and picked up an Oscar for playing Ray Charles in Ray. He's recently been moving towards television again in a producing capacity, although we'll see him pop up on the small screen this weekend hosting Saturday Night Live and he's set to star in Quentin Tarantino's Django Unchained, due out this Christmas. Robert Port is also an Oscar winner for his work on the 9/11 short Twin Towers. This past year he worked on another cop drama, the short-lived series NYC 22 on CBS.
This new project sounds a little on the cheesy side in the description, but I have heard cheesier concept that turned out pretty good in the end. It's early in development so we'll have to wait and see what direction it takes.
Your Daily Blend of Entertainment News
Thank you for signing up to CinemaBlend. You will receive a verification email shortly.
There was a problem. Please refresh the page and try again.