Jane Kaczmarek To Guest On Law & Order: SVU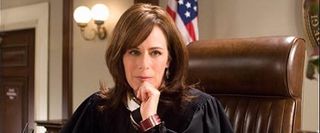 Law & Order: Special Victims Unit is about the get a visit from Malcom's mom. Malcolm in the Middle matriarch Jane Kaczmarek has booked a guest role on an upcoming episode in which she'll square off against District Attorney Rafael Barba. She'll be playing a D.A. as well, racing to convict on a case.
In the episode, Kaczmarek is set to play Pam James, the D.A. of Suffolk County who is trying a murder case. Turns out it's the same murder Barba (played by Raul Esparza, who just picked up a guest spot on NBC's upcoming Hannibal) is looking to convict for, but while James is after a rape suspect for the crime, Barba thinks the perpetrator is someone else. Both attorneys will do their best try the case and convict their suspect before the other trial can beat them to the punch. Hopefully this all plays out better on the screen than it sounds, because frankly, it sounds confusing.
Kaczmarek, who recently did some legal work on Raising the Bar, has been recurring on Whitney, in a role that places her firmly back inside her comfort zone playing a comedic television mom. It's not her first visit to a Law & Order set either. She guested on the original series in 1994.
There's no airdate yet for the episode, according to TVGuide, but sometime in early 2013 is a good bet. Law & Order: SVU airs on NBC at 9 p.m. ET on Wednesday nights.
Your Daily Blend of Entertainment News
Thank you for signing up to CinemaBlend. You will receive a verification email shortly.
There was a problem. Please refresh the page and try again.