Jeff Fahey Is The Latest To Get Lost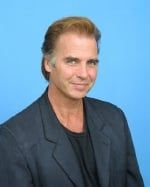 The actor formerly known as The Lawnmower Man and most recently seen in the Planet Terror half of the Robert Rodriguez/Quentin Tarantino gore-fest Grindhouse has officially walked through the ever-revolving door that is the cast of Lost. Fahey joins previously announced season 4 additions Lance Reddick, Jeremy Davies, Ken Leung, and Rebecca Mader.
Lost masterminds Carlton Cuse and Damon Lindelof told Ew.com's Jeff Jensen that Fahey was the only choice for the role he would be playing- which, in typical Lost fashion, they declined to reveal any details of.
Cuse is excited to welcome Fahey to the cast, citing his work in the Stephen King film The Lawnmower Man and the 1995 TV series The Marshall as personal favorites, also gushing, "And he has the most intense eyes of any guy out there, and I say that as a non-gay man."
Although not admitting to a man-crush like Cuse, Lindelof also sang Fahey's praises as an actor: "Fahey is one of those actors who feels like he fits into the Lost model: He's enormously talented and will be vaguely recognizable to some people, but he'll be able to land on our island without most people going, 'Oh, I know who that guy is.' And especially for the part we cast him for, he has exactly the right sensibilities."
Despite it's popularity and critical acclaim, Lost can be a hard show to cast. Some high caliber actors (why Kristen Bell, WHY????) don't like the idea of having to relocate to Hawaii, where the show is filmed. Others are frustrated by the tight lips of the show's producers, especially given their addiction to killing characters off (I miss you, Charlie!). But Cuse and Lindelof's obvious excitement over this most recent casting coup should give fans faith that season four will bring the same level of excitement, intrigue and emotion that has made Lost such a pop culture phenomenon over the past three years.
Unfortunately, it is my sad duty to remind you that season four won't kick off until February 2008.
Your Daily Blend of Entertainment News