Jerry Seinfeld And Julia Louis-Dreyfus Will Reunite For Comedians In Cars Getting Coffee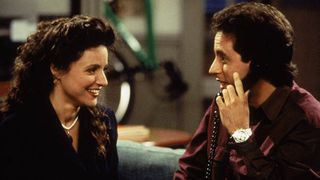 Seinfeld fans alert: Jerry and Elaine will reunite, again! Remember, they previously reunited, after the hit show went off the air, on an episode of Curb Your Enthusiasm.
According to Entertainment Weekly, the long time friends and former co-stars on the so-called "show about nothing" will share a ride to a coffee shop on an upcoming episode of Seinfeld's newest show Comedians in Cars Getting Coffee, which essentially gives Jerry an excuse to hang out with other comedians—cracking jokes—while driving in classic cars on their way to a coffee shop. This should be comedy gold! Think about it, Jerry Seinfeld's one-liner zings mixed with Julia Louis-Dreyfus' brazen honesty, right? Not to mention they're both pretty good with improv too. Oh, the possibilities!
Julia Louis-Dreyfus will be the last of the major cast members on Seinfeld to join her fellow co-star on an episode of the Crackle show. Alums Jason Alexander and Michael Richards have already shared a car ride and a cup of Joe with the comedy legend during previous seasons as well as co-writer/creator Larry David.
Then again, maybe they were saving the best for last. Elaine was always a fan favorite, which has spilled over into a successful post-Seinfeld career for the beloved comedian. Since Seinfeld, Julia Louis-Dreyfus has gone on to star in two hit series where she has served as the headliner. In her first post-Seinfeld hit, The New Adventures of Old Christine—pure comedy genius—the actress portrayed a divorced single mother with an unusually close relationship with her ex. As if she needed more complexity in her life, Old Christine—as she was called—often enlisted her child-rearing challenged best friend and brother to help with raising her son. Shortly after The Adventures of Old Christine went of air, Louis-Dreyfus landed the starring role in the HBO comedy Veep—one of the best shows on TV according to Patton Oswalt—where she plays the Vice-President of the United States turned President. If only we could make that a reality!
Former Seinfeld star, Mr. Jerry Seinfeld, isn't doing to shabbily for himself since Seinfeld went off air. Numerous appearances on Kelly & Michael, a lot of standup and the successful Comedians in Cars Getting Coffee show, among who knows what else, have kept this comedian pretty busy as well.
With a track record of guests like Chris Rock, Sarah Silverman, Louis C.K. and Jimmy Fallon, Season 6 of Comedians in Cars Getting Coffee is sure to be another good one. It begins June 4 on Crackle.
Your Daily Blend of Entertainment News
Thank you for signing up to CinemaBlend. You will receive a verification email shortly.
There was a problem. Please refresh the page and try again.