Jessica Sanchez May Be First American Idol Runner-Up To Not Earn A Record Deal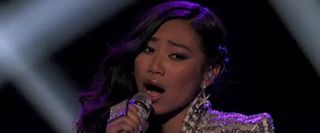 There's no doubting American Idol runner-up Jessica Sanchez has a phenomenal voice; however, she did lag a little behind during several Season 11 episodes, ending up in the bottom three during an April episode and getting saved from elimination by the judges. The petite power vocalist ultimately learned from her struggles and made it into the Final Two. However, she did not manage to overtake singer and musician Phillip Phillips and now, thanks to the hit singing competition's new contract with its contestants, she may only earn $30,000 for her efforts.
In past seasons of Idol, runner-up has not been a bad deal. Besides earning the right to work with 19 Recordings, Inc. to produce an album, runner-ups have also been privy to an advance of royalties equivalent to $175,000. According to THR, for Season 11, the contestants' contracts were changed up a bit, meaning the second place finisher has only earned a development deal, not a deal to record an entire album.
This seems like bad news for the 16-year-old singer, but it isn't necessarily. If 19 Recordings Inc. chooses to produce a full album with the singer, she will still earn the $175,000 cut. The loss in money will come if 19 Recording Inc. is not totally down with what they hear from the singer. Then, the company can instead choose to cut an EP or even fewer songs with Sanchez. If she records four songs, the company will only have to pay her $30,000 and if she records 4-10 songs, they only have to pay her $60,000. That's still a lot of money for second place; however, if you look at Phillip Phillip's 300k win, it begins to look a whole lot less attractive. I don't know if the deal changed due to faltering ratings on Idol or the fact the second-place winners have historically not made the record companies as much money, but I hope Sanchez bothered to read the fine print back in the day.
Your Daily Blend of Entertainment News
Thank you for signing up to CinemaBlend. You will receive a verification email shortly.
There was a problem. Please refresh the page and try again.