Jimmy Kimmel Developing Borat Meets Green Acres Show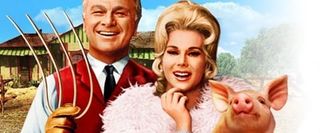 Jimmy Kimmel has come a long way from The Man Show. When he stepped behind the desk back in 2003, did anybody actually think Jimmy Kimmel Live! would still be around nearly a decade later? With his late-night show still going strong, now Kimmel is lending his talents to a new show, a scripted/reality hybrid series that's described as "Borat meets Green Acres." Insert dated Borat catchphrase of your choice here.
Kimmel's Jackhole Industries is shopping the untitled series around to various networks along with Tony DiSanto and Liz Gately. THR says that the project will drop scripted characters into a real-world environment and see what happens, hence the Borat comparisons. As DiSanto explains, "It plays on the idea of how far hospitality and politeness get pushed and does it in way that also examines culture clashes."
The Borat angle is obvious, so where does the Green Acres bit fit in? Given DiSanto's description, I'm going to guess they'll probably be dropping these scripted characters into rural, small-town environments. The contrast of a brash, obnoxious outsider playing against the cultural insistence upon politeness made for some of Borat's funniest, if most guilty, pleasures. Of course, they could be switching things around and sending some fake small-town types to mingle with the city folk instead. Or both. Time will tell.
This isn't the first time somebody has tried to give a beloved old show a reality spin. Back in 2003 CBS attempted to create a reality version of The Beverly Hillbillies...and got a whole lot of bad press for its trouble. Don't be surprised if you see the cable talking heads wagging their fingers at this one if it gets picked up.
Your Daily Blend of Entertainment News
Your Daily Blend of Entertainment News
Thank you for signing up to CinemaBlend. You will receive a verification email shortly.
There was a problem. Please refresh the page and try again.