Jonah Hill Co-Writing Fox Sitcom With Standup Comedian Hannibal Buress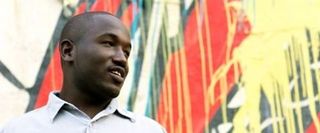 In addition to popping up all over the big screen lately, Jonah Hill is also doing his best to make a mark on the TV landscape. He co-created, exec produces, and voices the lead character in the upcoming Fox animated sitcom Allen Gregory, which premieres October 30th. (You can read Jesse Carp's Comic-Con review of the show right here.) Now Deadline is reporting that Hill has sold another sitcom project to Fox, this one to be co-written with standup comedian/writer Hannibal Buress, who will also star.
Unless you follow stand-up news you might not know Buress' name -- I didn't -- but you've almost certainly seen some of his work. He's performed his standup on shows like John Oliver's New York Stand Up Show, The Late Show with David Letterman, and The Late Late Show with Craig Ferguson. He's made an appearance on Louis CK's incredible FX show Louie, and on the other side of the screen he's written for both Saturday Night Live and 30 Rock. He was also picked as one of Variety's "Ten Comics to Watch in 2010." Hill told Deadline that "From the first time I saw Hannibal perform, I started banging down the door to be the person to help guide his unique voice and material to television." Clearly, Buress has got chops, and a primetime comedy with his name attached next to Hill's can only help make him a more household name.
Unfortunately, that's about all we know about the project at this point. There are no details available about concept, setting, characters...anything, really. Hill and Buress are co-writing it. Buress will star in it. Hopefully it'll be funny. Beyond that, feel free to speculate wildly and irresponsibly.
Your Daily Blend of Entertainment News
Your Daily Blend of Entertainment News
Thank you for signing up to CinemaBlend. You will receive a verification email shortly.
There was a problem. Please refresh the page and try again.