Jonathan Groff Returning To Glee As Jesse St. James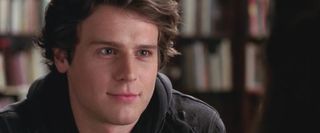 Jesse St. James was the fierce lifeblood of the show choir powerhouse Vocal Adrenaline in the first season of Glee, but now that he's out of high school and off on his own, it seemed like he wouldn't be around to torment New Directions anymore. Well Glee, never afraid of a plot twist, sees it a little differently. E! is reporting that Groff will indeed be turning to the show in the role of Jesse St. James, now a coach for Vocal Adrenaline. He'll appear on four episodes that lead up to a big face-off at, what else, the Nationals-- it's not Glee if it doesn't end in a big contest, after all.
E! had a few more details from their visit to the set that the Glee devoted might want to pore over, including the fact that there's an upcoming episode featuring an Adele mash-up, specifically the songs "Someone Like You" and "Rumor Has It." Adele approved the mash-up herself, and unlike the Britney Spears or Lady Gaga songs that Glee covers without quite the pomp and circumstance, Adele's vocally rich songs seem pretty well suited for the choir room. THey also included a few hints at some character twists, including a romantic pairing that will cause "a certain fanbase to freak" and a New Directions member who switches over to Shelby's rival glee club.
For an only semi-Glee-watcher like me, though, the real news is about Jonathan Groff, an immensely talented Broadway performer who couldn't possibly be in enough movies and TV to keep me happy. Even if he's stuck in a fairly underused role on Glee, it'll simply be great to have him back on TV.
Your Daily Blend of Entertainment News
Staff Writer at CinemaBlend