Khloe Kardashian And Mario Lopez Close To Co-hosting The X Factor Season 2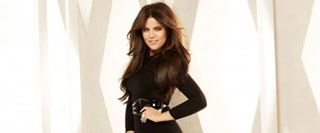 For the last month, Khloe Kardashian has been the frontrunner for The X Factor hosting position, with Extra's Mario Lopez falling not far behind. The show has spent the last few months on the road, taping auditions for Season 2 across the continental United States. Throughout the auditions, they've managed without a host, but with the live show approaching, it looks like Fox's hit competition show is in the throes of finally making a deal.
According to TMZ, Lopez and Kardashian are being hired as co-hosts on The X Factor. The news is altogether unsurprising. Despite some whispers E! was annoyed one of its famous sisters may have to split time with the cable network and Fox, Kardashian seemed to be a frontrunner for the series all along. Lopez, too, seems to be a winning addition to the team as a host. While Kardashian is a novice to hosting duties, including pushing the judges to commercial breaks and showing empathy for devastated contestants, Lopez has had plenty of experience. He has wowed audiences as a reality contestant on Dancing with the Stars and as the host of America's Best Dance Crew.
TMZ has noted the contract details are currently being finessed, and if everything works out, we should be getting an official announcement quite soon. One thing is for certain: a Kardashian won't come cheaply, and Fox is expected to have to add to the salary budget to cover the two co-hosts. If all goes well, we'll be seeing how Kardashian and Lopez work the stage in November. It's about time; I was a little worried for a while Simon might have to get up onstage and give some awkward shoulder pats when his contestants are sent home.
Your Daily Blend of Entertainment News