King & Maxwell Review: TNT's New Pilot Is Both Familiar And Wild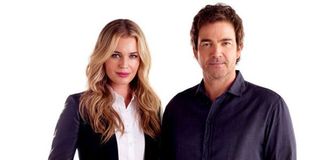 TNT's always been big on the buddy dynamic. Franklin & Bash offers two buddy lawyers and Rizzoli & Isles is about two female friends who work as a detective and medical examiner. On Monday, the network premiered King & Maxwell, a buddy drama about two private eyes with scarred pasts. The series is easy to step into, but may not offer audiences good enough reasons to return.
Based on a set of popular novels by David Baldacci and created by NCIS and NCIS: Los Angeles executive producer Shane Brennan, King & Maxwell offers a quick pace and plenty of action. In the span of one episode, fans will get a car chase, a shower scene, an amusing schoolyard fight with some bodyguards and a standoff with a gun. As if the action isn't enough for one hour, there's also a mystery to solve, as well.
Sean King and Michelle Maxwell are played by Jon Tenney and Rebecca Romijn, a duo that balances one another out and fits well into the brand TNT has built. Maxwell is a tough, no-nonsense woman who normally is not privy to her partner's random schemes. King is a jokester and a schemer, often deflecting his partner's nagging with a joke and solving mysteries by testing out theories. He's a little like The Mentalist and certain other TV mystery solvers that way. King and Maxwell are so comfortable with one another that they almost seem married, but the pilot episode makes certain to clear up any stray marriage thoughts, despite the two's relationship.
King & Maxwell's pilot is loosely based on (opens in new tab) Baldacci's book The Sixth Man, and I'm not certain I would have chosen the title to be the first book adapted from the series. The scope of the episode asks a lot from its viewers beyond quippy comments and an easy-to-watch partnership. A numbers genius, a bidding war, a slew of satellites, and a large conspiracy are all rolled together to create an unbelievable episode of television that requires its audience to believe in a far-fetched conspiracy.
The pilot episode is populated by a slew of familiar faces, including Sons of Anarchy's Ryan Hurst and Spartacus' Cynthia Addai-Robinson, but even that can't save the episode from being a ridiculous hour of drama filled with unbelievable twists and turns. Tenney was the best part of The Closer and the dynamic between Romijn and the actor works, but a show can't give audiences a basic procedural format and then ask them to buy into a plot that's straight-up Person of Interest ludicrous. It just causes the episode to be imbalanced and weird.
King & Maxwell works best when we are getting to know our two main characters, the trials and tribulations they faced as former Secret Service agents (these stories are very compelling), and the inventive and unique ways the two solve cases. Sean King and Michelle Maxwell just need mysteries that fit the dynamic and scope of the show, moving forward, and I hope they get them.
Amazing Race & Top Chef superfan with a pinch of Disney fairy dust thrown in. Theme park junkie. If you've created a rom-com I've probably watched it.
Your Daily Blend of Entertainment News
Thank you for signing up to CinemaBlend. You will receive a verification email shortly.
There was a problem. Please refresh the page and try again.